Kia Motors to Use Georgia Ports for SUV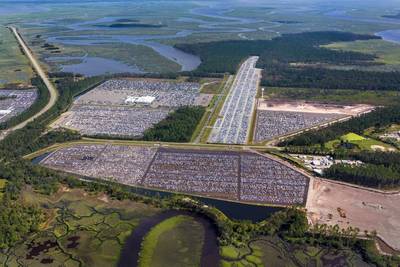 Kia Motors Manufacturing Georgia has announced the Telluride, its new eight-passenger SUV, will be shipped to the Port of Brunswick for global markets this month.

"The launch of the Kia Telluride, our largest and most refined SUV to date, will be a monumental achievement for KMMG," said Countess. "From the support we receive from GPA with our inbound parts from our global supply chain to supporting our export of finished vehicles to current and future markets, GPA will play an important role."

Through vertical integration – parts in via Savannah, autos out via Brunswick – Kia takes advantage of Georgia's extensive road and rail infrastructure, as well as its broader network of shipping line services.

"Kia has been a valued customer for the Port of Savannah since 2009, when KMMG first began producing vehicles for the domestic U.S. market in West Point, Ga.," said Georgia Ports Authority Executive Director Griff Lynch.

"Their decision to export the Telluride via Brunswick highlights the benefits of having North America's largest container port and largest autoport within 85 miles of each other. Georgia provides the total package when it comes to auto manufacturing and global distribution," Griff added.

Countess, Mark Boucher, director of vehicle logistics for the Volkswagen Group of America, and Gerry Lee, vice president of planning and logistics for Subaru of America, took part in the GFTC automotive panel, titled "What Challenges Does the North American Auto Industry Face in 2019?" One of the keys to success, the experts agreed, is a reliable and cost-efficient supply chain.

Volkswagen's plant in Chattanooga receives parts from the Port of Savannah and currently exports a small number of the Passat and Atlas models via Brunswick. Boucher said VW will soon launch a new version of the Passat and the company has "robust plans for delivering the Atlas to more than 30 export destinations in 2019."

In addition, Boucher said the manufacturer was making an $800 million investment to manufacture and export electric vehicles by 2022.