Kongsberg Provide Ukraine Bridge Simulator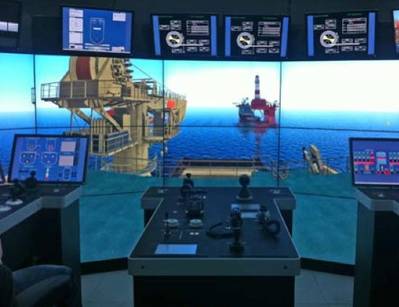 A state-of-the-art new training centre outfitted with the latest KONGSBERG Offshore Vessel Simulator opened by Ukrainian crewing company Lerus Ltd.

Established to meet growing training demand in Ukraine, Russia, Poland, Lithuania, Latvia, Romania and other European countries, the new Lerus Training Centre is the first in the Ukraine to offer fully integrated offshore vessel operations training.

Lerus Ltd's new KONGSBERG Offshore Vessel Simulator, features a 240 degree field of view, offering life-like visuals to enhance realism during the varied training scenarios available, which are based on courses for: Ship Handling (AHTS, OSV, ROV, DSV, VLCC, MPSV), Dynamic Positioning, Crane Operations (Stage 1,2,3), Anchor handling and Towing/Rig Move.

The new simulator, installed this Autumn, offers complete vessel training where different teams may interact within the same exercise. To enable full vessel operation training, the market-leading KONGSBERG K-Pos, Dynamic Positioning Simulator is integrated alongside a KONGSBERG offshore crane simulator, which provides team training by realistically simulating a deck-mounted knuckle-boom crane or a wire-luffing lattice pedestal crane for platform lifting operations. The KONGSBERG delivery also includes a standalone crane simulator for training on harbour operations.

Courses on the KONGSBERG Offshore Vessel Simulator at the Lerus Training Centre will be conducted by eight instructors, all of whom work as Dynamic Positioning Operators offshore. They will form a working rotation to ensure the availability of courses conducted by serving offshore professionals for students at Lerus Training Centre at all times.

Kongsberg Maritime Simulation Area Sales Manager, Terje Spetaas adds: "We are pleased to have been selected to equip the Lerus Training Centre with our multi purpose Offshore Vessel Simulator. The use of our simulators by a crewing company is an innovative step as it shows how serious Lerus is when it comes to providing highly skilled and competent crew to the market."