Kongsberg Supplies Suite for German Research Vessel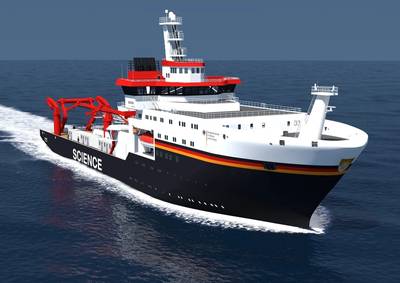 Kongsberg Maritime has been contracted to supply a survey suite to a vessel currently under construction and for use by a consortium of German universities. The contract covers all hydro acoustic aspects of the new build survey vessel 'Tiefsee Forschungs Schiff,' which has been commissioned to replace the old RV 'Sonne,' the current vessel being shared by the same group of German universities.

In addition to the EM 122 0.5º x 1º multibeam system, the Kongsberg Maritime systems on board TFS include an EM 710 0.5º x 1º system, Seapath position reference system, EA600 Hydrographic single beam echo sounder and EK60 Scientific echo sounder. All systems will be completely integrated in a hydroacoustic lab.

Owned by the German Ministry of Research, TFS is being built by Meyer Werft in Papenburg and will be operated by RF Forschungsschiffahrt GmbH in Bremerhaven. The vessel will be used for multi-discipline research by the universities, which include the University of Bremen/Hamburg, IOW Rostock, BGR Hannover, IFM Geomar Kiel and several others.
System delivery will begin in Autumn of 2013 and the final SAT (Sea Acceptance Test) is planned for the end of 2014.