Kongsberg Bags Orders for Upgraded Heli-deck Camera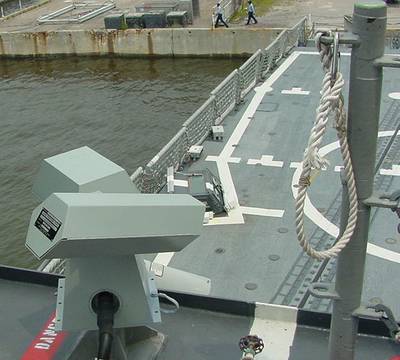 Kongsberg Maritime Ltd. (KML) Camera Group announced it has been awarded multiple contracts to supply the recently upgraded Helicopter Observation Surveillance System (HOSS).
The HOSS is designed for real time video monitoring of heli-deck operations in extreme low-light conditions aboard Naval Surface Ships and is fully qualified to meet US MIL standards. The history of the HOSS spans nearly three decades with many of the first produced units still in service and excelling in performance in the challenging environments they encounter, according to KML.
All recent contracts will receive the latest version of HOSS. The upgraded system now fully supports IP (Internet Protocol) and can be easily integrated to third-party Video Management Software packages, which are becoming increasingly popular on board new build vessels and are being retrofitted into existing vessels during midlife upgrades. Due to the modular system design, backwards compatibility of the line replaceable modules is retained, thus ensuring a simple and cost effective upgrade path for legacy systems.
The HOSS system upgrade was implemented and trialed in early 2015, and the first units are set for delivery to the end users in the third quarter of 2015.