Korea-built Container Ships for Evergreen Named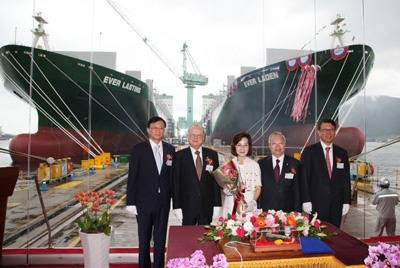 Naming ceremonies held at Samsung Heavy Industries Shipyard for two 8,542 TEU L-class container ships built for Evergreen.

Ever Laden, the second L-type containership of Evergreen Line, was christened by S.S. Lin, the Evergreen Group's First Vice Group Chairman, at the Samsung Heavy Industries shipyard. The ceremonial rope cutting for the new 8,452-TEU vessel was performed by Mrs. Mei-Sui Lin in a ceremony attended by dignitaries from Taiwan and abroad.

Mr. Lin later also presided at the naming ceremony for Ever Lasting, the third L-type containerships, when the rope cutting for the new ship was conducted by Mrs. Lee-Ching Ko, Second Vice Group Chairman of Evergreen Group.

The L-class containerships are 334 meters in length, 45.8 meters wide, with 942 reefer plugs and a draft of 14.2 meters. The vessels can cruise at a speed up to 24.5 knots. Both ships will join Evergreen Line's Far East - Europe routes after delivery in late August.

L-class containerships meet the standards of international regulations for environmental protection and can reduce CO2 emission by 15% compared to the carrier's earlier award-winning S-class "green ships."

To upgrade its container fleet and to meet customer demand, Evergreen Group commenced a new shipbuilding project in 2010, ordering 20 L-type vessels from Samsung Heavy Industries. In 2011, Evergreen placed an order for another 10 vessels of the same specifications with Taiwan Shipbuilding Corp.