Damen Delivers Pontoon to Kristiansund Taubåtservice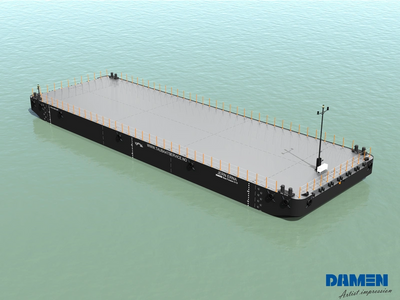 Kristiansund Taubåtservice has taken delivery of a Damen Stan Pontoon 4113. At 41 meters in length and 13 meters across, the Stan Pontoon joins the company's existing fleet of three barges.
Kjetil Kvande Hansen at Kristiansund Taubåtservice AS commented, "We had been in the market for a heavy duty pontoon for a while, but when the timeframe suddenly narrowed, only Damen could deliver a pontoon on time and with the correct specifications."
The 4113 was delivered from stock available in Rotterdam. It was built in China and delivered as part of one of Damen's regular shipments of pontoons of various sizes to Rotterdam. From there they are available at short notice for clients in Europe,
Africa
and
America
.
"With vessels in stock in Rotterdam," continued Kjetil Kvande Hansen, "we could inspect and choose from various models, but it soon became clear that the Stan Pontoon 4113 met all our specific requirements."
The 4113 has a maximum deadweight on 980 metric tons, 536 m² of deck space and a maximum deck load of 10 metric tons/m². Like all Damen products, standardized Stan Pontoons are also designed to take a range of additional options, and in this case Kristiansund Taubåtservice AS ordered six ramp panels which add an extra level of accessibility to the pontoon. Measuring 1.5 x 12 meters, each has flaps to ensure a smooth run over the ramps. Before delivery the barge was docked and checked to ensure its compliance with Damen's quality standards.