Ross Laboratories Delivers Turn-Key Sweep System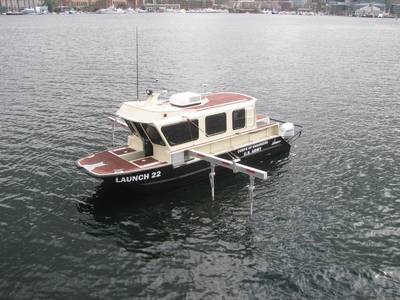 The U.S. Army Corps of Engineers – St. Paul District has taken delivery of a turn-key multi-channel sweep system from Ross Laboratories of Seattle, Wash. The system is installed on a 24 foot Armstrong Marine aluminum work boat. Ross Laboratories was awarded the contract to provide the boat and survey electronics as a "turnkey" system.


The Ross "Mini-Sweep" is a small boat multi-channel survey system designed for inland rivers and shallow water surveying. The "Mini-Sweep" is ideally suited for installation on small trailerable vessels. The turn-key system for the Fountain City Service Base office is installed on a custom designed 24-foot catamaran hull work boat from Armstrong Marine of Port Angeles, Washington.


Two 10 foot booms mounted on either side of the vessel provide a 25-foot overall sweep width using six transducers. The booms are stored in recessed areas in the hull, leaving the deck clear at all times. The booms are deployed by a hydraulic system using controls at the helm station.


Electronics are mounted in a custom built work cabinet with slide out drawers for easy access containing the depth sounding system, Panasonic Toughbook™ data collection computer, and a Trimble DGPS sub-meter system. Hypack™ software is used for data collection and processing.

The St. Paul District is responsible for surveying and mapping the upper 243.6 miles of navigation channel to a minimum depth of 9 feet on the Mississippi River from Minneapolis, Minnesota, at river mile 857.6, to Guttenberg, Iowa, at river mile 614.0, and 40.6 miles on three tributaries: the Minnesota, St. Croix and Black rivers.


This new vessel replaces a Ross sweep survey boat that has been in operation for over 12 years and will work along with a turnkey sweep system previously supplied by Ross in 2000.