Langh Ship Recognized for Innovation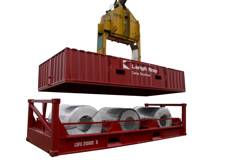 A steel transportation method developed by Oy Langh Ship Ab was awarded an honorable mention in the Finnish nationwide Productive Idea Competition. The award was presented at a banquet on Oct. 25, 2008 and received by Managing Director Hans Langh.
Langh Ship's newest products are the Cradle Cassettes that have been developed for transportation of big steel coils. The first series of the Cradle Cassettes began operating in traffic at the beginning of the year. They speed up cargo handling, reduce cargo damages, and are more environmentally friendly because they replace disposable cargo securing materials.
The Productive Idea Competition was organized by the Junior Chamber International Finland. The competition searches for ideas or production methods, no more than three years old, that are already in use. The aim is to increase innovation and the appreciation of entrepreneurship.
The product family of Langh Ship Cargo Solutions encompasses several transportation methods that are suitable for intermodal transportations of heavy and sensitive steel products.