Larger Vessel Gains Lift Baltic Dry Index to Best Week in Three Months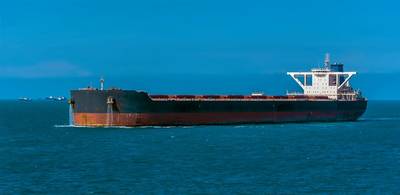 The Baltic Exchange's main sea freight index, tracking rates for ships carrying dry bulk commodities, rose on Friday and marked its best week since mid-March, supported by a rebound in the capesize and panamax vessel segments.
The overall index, which factors in rates for capesize, panamax and supramax shipping vessels, rose 15 points, or 1.4%, to 1,055, its highest level since May 30.
The index was up 14.8% for the week — its biggest weekly percentage rise since March 10.
The capesize index added 54 points, or 3.7%, to 1,514. The index jumped 35.7% for the week, its first weekly gain in four.
Average daily earnings for capesizes, which typically transport 150,000-tonne cargoes carrying commodities such as iron ore and coal, increased $448 to $12,560.
Iron ore futures advanced and were on track for a second consecutive weekly gain, driven by optimism about demand as signs emerged that top steel producer China is moving to support its faltering economy.
The panamax index was unchanged at 1,146 points. The index was up 11.3% for the week, snapping an eight-week long losing streak.
Average daily earnings for panamaxes, which usually carry coal or grain cargoes of about 60,000 to 70,000 tonnes, increased $4 to $10,316.
Among smaller vessels, the supramax index lost 11 points at 736. The index was down 10.5% for the week.
(Reuters - Reporting by Ananya Bajpai; Editing by Shilpi Majumdar)