Largest Car Carrier Ever to Sail into East London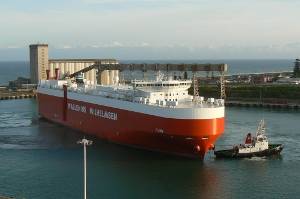 Laden with a consignment of luxury vehicles for the South Africa market, the 231 metre ship mv Tijuca became the largest car carrier ever to sail into the Port of East London.
The vessel is on its maiden voyage to the country with ports of call including Port Elizabeth and Durban. In East London the 13 deck ship took advantage of a recent expansion project which saw the berth at the car terminal deepened from 9.3 to 10.5 metres to accommodate larger vessels.
East London Port Manager
Jacqueline Brown said
the vessel's call highlighted the positive outlook in the new vehicles market. This was driven by the awarding of major automotive contracts to local original equipment manufacturers (OEM's), such as Mercedes-Benz South Africa's (MBSA) contract with Daimler AG to produce the next generation C-Class at its East London plant. As a result, R2,5-billion will be invested into the East London plant in preparation for production of these vehicles, which will be introduced to global markets in 2014.
Said Brown, "Last week we saw MBSA export its largest new generation consignment of 3 168 locally built C-Class cars destined for the United States, and this week the port welcomes its largest carrier. These developments certainly point to the strategic importance of the automotive sector for this region, and the importance of this port in the overall logistics plan for South Africa."
She said South Africa's only river port had seen key investments by Transnet SOC to meet the demands of the global automotive market and further capacity could be added should market forces necessitate the implementation of phase two plans.
Built in 2008 and operated by Wallenius Wilhelmsen Logistics, mv Tijuca has a design capacity of up to 8,000 units of rolling cargo such as cars, high and heavy cargo and some breakbulk cargoes. It stands at 231.6 metres in length with a gross tonnage of 71 673. It has a breadth of 32.26 metres and a summer draught of 11.3 metres when fully laden.
The ship also boasts a 'green Passport', issued by Lloyds Register according to the International Maritime Organization's (IMO's) guidelines. This confirms its application of the latest technology which ensures it operates in an environmentally efficient manner especially with low greenhouse gas emissions.
Transnet is also a company committed to environmental management. "The nature of our activities lends itself to increased environmental exposures, primarily due to materials we move across our port and rail network and the nature of our assets and associated carbon footprint. Hence we applaud WWL in their Green Passport initiatives," said Brown.
The ship and its crew of 26 hailing mainly from the Philippines, Europe and India, will depart for Durban this evening en route to Melbourne, Australia.