Hooghly River Dredger Launched at IHC Merewede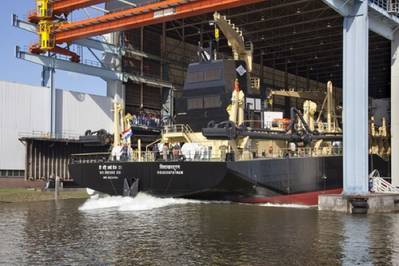 IHC Merwede name and launch the 5,500m³ trailing suction hopper dredger, DCI DREDGE XXI, for the Dredging Corporation of India Ltd (DCI) at the shipyard in Kinderdijk, The Netherlands.
The ceremony was performed by Mrs R Mohanty, the spouse of DCI Chairman and Managing Director Captain DK Mohanty.

The DCI DREDGE XXI is the third vessel in a series of three dredgers – including the DCI DREDGE XIX and DCI DREDGE XX – and is being constructed under the dual classes of Lloyd's Register and Indian Register of Shipping. IHC Merwede has previously supplied ten vessels to DCI, having been selected as a preferred supplier.

The vessel will be deployed - along with the DCI DREDGE XIX and DCI DREDGE XX - for the maintenance-dredging project on the Hooghly River, which is a tributary of the Ganges River in West Bengal. These new DCI vessels are specially designed for this task, taking into account the Hooghly River's soil properties, strong current and shallow depth.

These dredgers feature high levels of productivity, reliability and efficiency. The DCI DREDGE XIX and DCI DREDGE XX have already been successfully utilised in operations, and the DCI DREDGE XXI will be delivered in the first quarter of 2014.