First Vessel Launched for BigRoll Shipping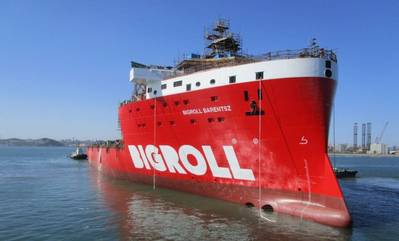 The heavy marine transportation provider BigRoll Shipping announced its first of four MC Class vessels under construction, BigRoll Barentsz, was launched on October 27, 2015 at Cosco Dalian Shipyard. The vessel construction and commissioning remains on schedule for delivery in March 2016.
The second BigRoll vessel, the BigRoll Bering is expected to be launched in December, with an expected delivery date of May 2016. The remaining vessels will follow, with delivery anticipated to be the second half of 2016 and early 2017.
Directly after delivery from the yard the first two vessels will enter into a multiyear contract with Yamgaz, the consortium of
Technip
, JGC Corporation and
Chiyoda
, for module transportation as part of the Yamal LNG project.
The Finnish Swedish 1A Ice Class vessel has the ability to operate in temperatures as low as minus 39 degrees centigrade, while the large, flush, unobstructed deck and the high service speed make the MC Class suited for this project.