Society for Gas as a Marine Fuel Launched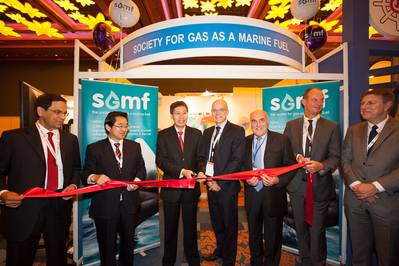 The Society for Gas as a Marine Fuel (SGMF) was formally launched by Minister Lui Tuck Yew on Wednesday, October 15, 2014 in conjunction with the Singapore International Bunkering Conference and Exhibition (SIBCON) 2014. Approximately 1,600 delegates from more than 50 countries attended the event's opening ceremony, which was organized by the Maritime and Port Authority of Singapore (MPA).

Mark Bell, General Manager of SGMF, thanked the Minister in person for his attendance and for his participation with launching SGMF. Bell then continued to highlight the aims and objectives of SGMF and the valuable work that it is doing in connection with its various members. Minister Lui Tuck Yew then cut the official ribbon, thus declaring SGMF to be launched and was presented a crystal trophy by Mark Bell. SGMF's Board of Directors were also present for the photo opportunity which followed.

SGMF's members include a wide range of expertise from Ship owners, LNG fuel suppliers, Bunker suppliers, Port authorities through to Regulatory Agencies, Classification Societies, Protection & Indemnity (P&I) clubs, Manufacturers (including designers, shipyards and naval architects) and other relevant Organizations.

Minister Lui Tuck Yew, had mentioned SGMF previously in his opening speech to the delegates of SIBCON. Addressing an international audience during the opening ceremony, Minister Lui said that the bunkering industry had to grapple with a rather challenging environment. In the face of these challenges, we must look towards the adoption of new technologies and new modes of operation, and seek to transform the bunkering industry such that we can ensure continued growth in a sustainable manner.