OW Bunker Launches Second Vessel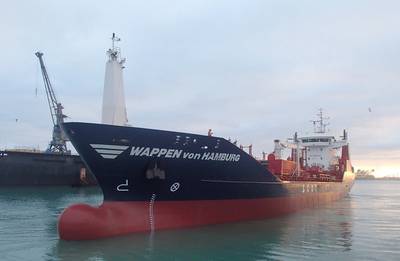 OW Bunker, one of the world's largest suppliers and traders of marine fuels and lubricants, today announced the launch of its second supply vessel in North America. The double-hulled WAPPEN von HAMBURG, which will operate offshore in the Gulf of Mexico will be deployed from March 2013.

WAPPEN von HAMBURG is a 8,182dwt vessel, which has been taken on a long-term time charter. The vessel and its operators are highly experienced in offshore bunker supply. It is equipped with dedicated tanks to provide complete segregation of low sulphur fuel oil (LSFO), heavy fuel oil (HFO), and marine gas oil (MGO). And it is truly versatile in terms of being able to supply all vessel classes, including bulkers, tankers, gas carriers as well as offshore service and supply vessels.
"The introduction of WAPPEN von HAMBURG provides us with the ability to provide all our customers, no matter what their vessel type, with a comprehensive offshore fuel supply solution," said Adrian Tolson, Regional Manager, Physical Operation, OW Bunker.
"In conjunction with our other vessel Elisalex Schulte, we now have the most modern vessel with the fastest pumping rates, as well as the most versatile and the most experienced vessel operating in the region. Combining service excellence with the assurity of quality products on the best terms and at the best prices is a powerful proposition for our customers who are looking at every opportunity to take costs out of their supply chain. This is where we can really help them."

WAPPEN von HAMBURG will join Elisalex Schulte, operating in international waters off both the Texas and Louisiana coastlines.