Austal Launches Wind Express Series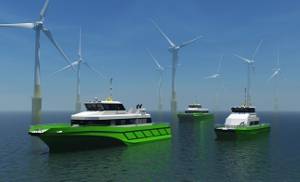 Austal has unveiled its new range of high speed transfer vessels specifically designed for the burgeoning offshore wind farm industry. The company's Wind Express series of vessels combine fuel efficiency with advanced sea keeping characteristics to deliver a premier transportation solution for offshore wind farm operators.

Features of the Wind Express series include the option to install Austal's patented Ride Control System (RCS) to ensure a safer, more productive platform, even in rough seas.

Each vessel in the Wind Express series can be further customized to suit specific sea conditions, routes, work space and payload requirements.

The series incorporates four vessels - Wind Express 17, Wind Express 19, Wind Express 28 and Wind Express 28 – Tri SWATH.

These vessels feature a selection of hull forms ranging from a refined catamaran design for added stability and efficiency to the Austal-developed tri-SWATH hull form delivering unparalleled sea keeping and onboard comfort in up to sea state 6.