BAE Systems Launches Jackson Offshore PSV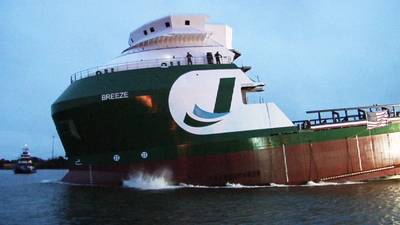 BAE Systems today launched the first of four platform supply vessels it's building for Jackson Offshore Operators, LLC. These vessels, which will support drilling operations in the Gulf of Mexico, reflect BAE Systems' continued growth in U.S. commercial shipbuilding and its support to the offshore oil and gas industry.

The launch ceremony for the M/V Breeze included representatives from both companies. Lee Jackson, chairman and chief executive officer of Jackson Offshore Operators, initiated the launch and the vessel moved swiftly and safely into the St. John's River.

The M/V Breeze will remain at BAE Systems' shipyard to complete construction prior to delivery in May. The second ship, Hull 256, will be delivered in September. Two additional vessels are under contract and will be completed in 2015.

Each of the Jackson Offshore Operators vessels will be qualified under the U.S. Jones Act, will measure 252 feet long and 60 feet wide, and will support Jackson Offshore Operator's expanding business base in the Gulf of Mexico.

The Jackson Offshore contract is part of a continued effort by BAE Systems to increase new construction workload at its facilities in Jacksonville and Mobile, Alabama. The company is currently building two platform supply vessels in Mobile and is under contract to build a subsea support vessel for offshore drilling operations.

Photo caption: BAE Systems launches the M/V Breeze from its Heckscher Drive shipyard on Wednesday, January 29.