Dometic Launches In-Duct Breathe Easy Air Purifier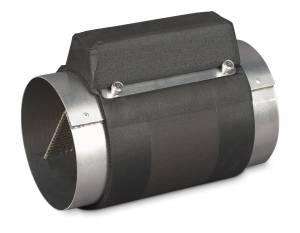 Dometic Marine launched the new In-Duct Breathe Easy Air Purifier (patent-pending) to the US commercial and workboat markets at this year's Pacific Marine Expo. The system was recently awarded the IBEX Innovation Award in the Mechanical Systems category. Since its launch to the U.S. marine leisure market, the In-Duct Breathe Easy has been specified by several yacht builders including Trinity Yachts.

The In-Duct Breathe Easy Air Purifier is specifically designed to work within the ducting of a vessel's air conditioning system. Operating silently, it purifies and cleanses air using Photocatalytic Nano-Mesh Technology with UV light. Each time the air circulates it is further purified.

The unit takes up little space and if retrofitted will require no alterations to the vessel's existing air conditioning unit. There is no need for any mounting hardware as a section of the A/C ducting is cut out and the circular In-Duct Breathe Easy tube is inserted, then the ducting is reattached to it. The Breathe Easy is available in sizes to match all standard duct diameters.

The In-Duct Breathe Easy unit is alsoy relevant for installation during a vessel's refit and refurbishment as during such extensive work there are a myriad of solvents and glues used all of which give off dangerous, sometimes odor-free emissions.

Coupled with the smell of new fabrics and carpets a recently refurbished vessel, although looking in pristine condition could contain highly contaminated and polluted air.

The health risk of inhaled mold could be heightened onboard a boat as dampness is common, cabin spaces are more difficult to ventilate with fresh air, and excessive exposure to contaminants is more likely due to long periods of time spent aboard.