DSC Dredge Launches New Website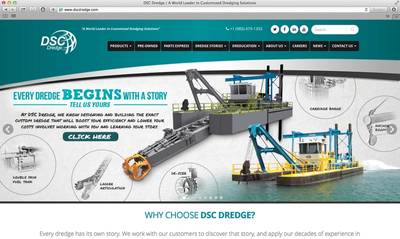 DSC Dredge, LLC, announced it has launched a new website, www.dscdredge.com, featuring a updated look, improved navigation and enhanced functionality.
DSC said it took significant time in creating its new website to think through not only how the company does business, but also why – and how its project methodology differs from other companies in the industry.
According to DSC, a theme woven throughout the new website is "Tell Us Your Story." DSC said it believes that every dredge begins with a story, every dredging application is different, and every dredge operator works under unique conditions. Many of DSC's dredging solutions are rooted in a number of base models that are then customized to match the customer's goals. Other DSC dredges are designed for specific applications and are wholly unique. Prior to making any dredge design recommendations, the company executes a rigorous process of talking with customers to establish the immediate and long-term application parameters and obtain the necessary information to recommend the right dredge. As leaders in the field of dredging solutions – from the simple to the most complicated custom dredges for special applications – DSC strives to understand the distinct characteristics of every operation's requirements.
The new website is a reflection of DSC's commitment to furthering education and training about dredges and dredging – for dredge owners and their crews, and also for the general advancement of the industry.
DSC customers can visit the website and share their dredging stories, which may be uploaded under the site's "Dredge Stories" page.
The company has added many new features and dynamic content to the site, including a responsive element that adjusts automatically for different size devices, including computers, tablets and
mobile phones
; improved navigation; and a product pages with literature, a Parts Express page, Dredge Stories, News and Careers.