Launching Heavy Lift Vessel, Oleg Strashnov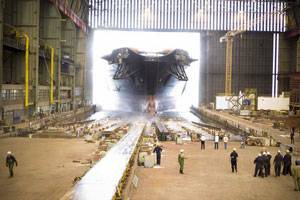 IHC Merwede announced the launching of the Heavy Lift Vessel for Seaway Heavy Lifting took place on Saturday 22 August 2009, at the IHC Merwede Offshore & Marine facility in Krimpen aan den IJssel, the Netherlands.

With its 5,000MT crane capacity the vessel is the largest mono hull heavy lift vessel in the world and is the largest vessel ever built by IHC Merwede.

In March 2007 IHC Merwede Offshore & Marine was granted this order because of its ability to engineer and build the vessel including the integration of the 5,000MT heavy lift crane within the required short delivery time and for a fixed price. The keel of the vessel was laid on 3 April 2008.

The vessel is designed for the installation and removal of offshore platforms, subsea constructions and special projects. The introduction of this Heavy Lift Vessel to the market will provide Seaway Heavy Lifting with another versatile vessel and will more than double Seaway Heavy Lifting's capacity.

On 22 and 24 August the deckhouse of the Oleg Strashnov was transported to the yard in Krimpen aan den IJssel in two separated parts. Shortly after this the total deckhouse was lifted on the vessel. Then the helicopter landing platform was placed on top of the bridge complex. For the construction and completion of the deckhouse a complete subcontractor village including project support has been set up near the hall.

It does not often happen that such a large deckhouse is built within IHC Merwede. The accommodation is suitable to provide accommodation for 220 persons in mainly one and two person cabins. The upper part of the deckhouse has a width of 95 ft, a length of 138 ft and a height of 52.5 ft. The lower part has a width of 95 ft, a length of 138 ft and a height of 21 ft. The weight that was to be lifted is 1,775 ton.

The Oleg Strashnov is the first vessel that will be moored at the outfitting quay. This quay has a total length of 935 ft and is equipped with a 60 ton crane and a construction crane of 6 ton. The outfitting quay is part of a large-scale expansion project which also provides for building a panel line hall and a service centre for employees, suppliers and subcontractors. Main target of these renewals is optimizing the process of working and raising the efficiency.