Reps. Courtney, Wittman Honored for Maritime Leadership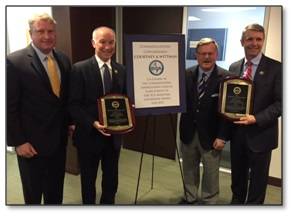 United States Congressmen Joe Courtney (D-Conn.) and Rob Wittman (R-Va.) this week received the Maritime Leadership Award from the Shipbuilders Council of America (SCA), a national trade association representing the nation's shipbuilding and repair industry. The award recognizes individuals who have demonstrated exceptional leadership, dedication and support to the shipbuilding and repair industry.
"From their critical role in supporting the U.S. shipbuilding and repair industry to ensuring our Navy fleet is equipped with the resources and programs necessary to maintain a skilled and experienced workforce, Congressman Courtney and Wittman have demonstrated that they are true champions of the maritime industry," said Matthew Paxton, President of SCA. "Additionally, their outspoken leadership in support of the Jones Act ensures that it remains the strong backbone of America's maritime industrial base, safeguarding thousands of family-waged jobs and protecting both our armed forces and our borders from threats domestic and abroad."
As a senior member of the House Armed Services Committee (HASC), Rep. Courtney has worked to bolster the nation's naval defense by calling for increased submarine production, which has added hundreds of family waged-jobs to communities across the country. Through his role as Co-Chair for the bipartisan Congressional Shipbuilding Caucus, Rep. Courtney led the fight to ensure our nation's defense is supplied with the latest technology and resources in order for our nation to stay competitive and strong against current and potential threats.
"I am honored to receive this award and to work alongside the Shipbuilders Council of America to advocate for a strong shipbuilding workforce. America's maritime industry is an integral part of our economy and our national security—without shipbuilders to maintain and modernize our military and commercial fleets, we would lose the longstanding superiority of our Navy, and international commerce would be threatened, said Rep. Courtney. "In my eight years in Congress, we have achieved a lot in my district and across the Navy with the increase in submarine production. As Ranking Member of the Seapower Subcommittee and Co-Chair of the Shipbuilding Caucus, I am proud to play a leading role in Congress to educate and advocate to members about the importance of maintaining our shipbuilding workforce for the future. I am grateful for this recognition, and look forward to continuing to advocate for the men and women of the maritime industry."
As the Chairman of the Readiness Subcommittee and member of the Seapower and Projection Forces subcommittee of HASC Rep. Rob Wittman is recognized as a leader in the Congress on maritime issues and also as a champion for U.S. veterans and active service men and women. As Co-Chair of the Congressional Shipbuilding Caucus, Rep. Wittman has a proven record as a dedicated advocate who diligently works to maintain a robust Navy and a strong domestic shipbuilding and repair industry.
"The efforts of the Shipbuilders Council of America have tremendous implications for the military, merchant marine, industrial base, and for our economy, and I am humbled to receive this honor today. To me, working on behalf of our men and women in uniform is a constitutional duty, and it is an honor to serve on their behalf as well as on behalf of the many talented individuals who help to design, construct, and repair and maintain the great ships produced in American shipyards," said Rep. Wittman. "A vibrant U.S. shipbuilding and domestic maritime industry, underpinned by the Jones Act, is good for our economy and national security. I thank the Shipbuilders Council of America for your outstanding work on behalf of our men and women in uniform and our shipbuilding industry."