1,200HP Tug Aries Leased in Alaska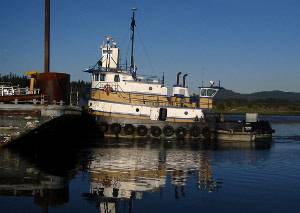 C & K Marine of Anchorage, Alaska has leased the 75' x 27' x 11' steel, twin screw tug "Aries" from Olympic Tug & Barge, Inc. of Seattle, Wash. The lease was arranged through the auspices of Marcon International, Inc. of Coupeville, Wash.
The "Aries" is a conventional Gulf Coast style tug, built in 1980 by LAD Companies in Gibson, Louisiana. The U.S. flag tug is powered by a pair of GM 16V92NA diesels producing a total of 1250 HP @ 1900 RPM, each turning a 60" x 56" 4-blade stainless steel prop through a Twin Disc 527 5.17:1 marine gear. This gives "Aries" a bollard pull of 10.75 short tons ahead and 7.95 short tons astern. The model bow tug is fitted with two pushknees and a heavy bow pud forward along with a small "Carolina Cockpit" upper pilothouse for pushing.
Towing gear consists of an Intercontinental, single drum winch with 30 ton linepull and capacity for 1,200' of 1-1/4" wire, two manual barge winches and an Orville hook tow wire retrieval system. Ships power is supplied by twin 40kW 208vAC 3Ph 60Hz generators driven by GM4-71s.
The tug has tankage for 35,000g of fuel, 5,000g of fresh water, 60g of lube oil and 60g of hydraulic oil. This gives her an endrance of about 28 days.
"Aries" is now undergoing refurbishment in Seattle before entering into her new service in
Alaska later
this year.