Liftboat Charter by China for Ezion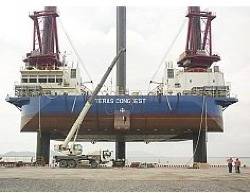 Ezion clinches US$65.7m liftboat charter contract with China
Ezion Holdings has secured a four-year period charter contract to provide a liftboat to be used by a state-linked power generation enterprise in China due to start working in the Yellow Sea in the third quarter of 2013 upon its completion.
A liftboat is a self-propelled, self-elevating vessel, which has a large open deck capable of carrying equipment and supplies in support of various offshore mineral exploration and production or offshore construction activities. It also has the ability to raise its hull clear of the water so as to provide a stable platform from which maintenance and construction work may be conducted.
Ezion specialises in the development, ownership and chartering of strategic offshore assets, as well as the provision of offshore marine logistics and support services to the offshore oil and gas industries.
The company said that it owns one of the largest and most sophisticated classes of multi-purpose self-propelled jack-up rigs, or liftboats, in the world. It added that it has a fleet of five liftboats that is expected to come into service in the current financial year.