Lilley & Gillie, DPM Launch BridgeDirect!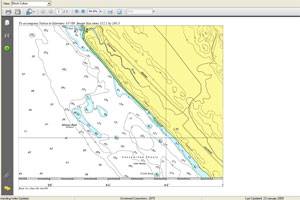 Lilley & Gillie and DPM (UK), international Admiralty Chart agents, have launched BridgeDirect!, a new, fully automated onboard chart management system.
BridgeDirect! provides mariners with a weekly transmission of Notices to Mariners and tracings to enable onboard charts to be updated. BridgeDirect! fully integrates with chart management systems and ensures that both ship and shore records are synchronized. Users only receive those updates that their vessel requires, keeping transmission costs to a minimum. An audit trail records that all corrections are received and applied.
Glenn Heathcote, Managing Director of both Lilley & Gillie and DPM (UK) said: "Designed in collaboration with a leading UK oil major and in response to customers' requests, BridgeDirect! is the result of two and a half years of research and development at the company's North Shields, Tyne and Wear, facilities."
"Although firmly aimed at the SOLAS market, BridgeDirect! is suitable for any vessel fitted with an internet connection and a PC that requires up-to-date navigational information."
Dave Addy, Lilley & Gillie's IT Manager, said "BridgeDirect! data is delivered via compressed emails. The software, which is provided free of charge, can be installed on any standard PC with a printer, eliminating the need for costly hardware and expensive installation."
The BridgeDirect! service is provided on a weekly subscription basis, paid quarterly in advance, without long notice periods. Lilley & Gillie and DPM (UK) are offering BridgeDirect! with a free trial period so that customers can fully assess the product.
BridgeDirect! is UKHO and MCA approved.