Chance to Explore the Lionfish Invasion With Expert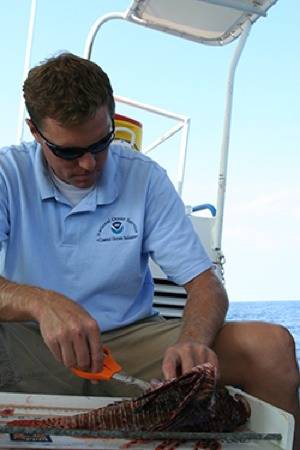 Join with with Dr. James Morris in a 'Tweetchat' to explore the lionfish invasion. Learn why lionfish have been so successful in invading new areas and what scientists and the public are doing to address this growing problem. Get your questions ready and tune in on November 14, 2013.
Background
Lionfish, a native Indo-Pacific species, is now found in U.S. Atlantic waters from North Carolina to Florida, in all Gulf of Mexico states, and in the Caribbean, and continues to expand into new regions. Recent estimates of lionfish densities indicate that lionfish have surpassed some native species with the highest estimates reporting over 1,000 lionfish per acre in some locations. Lionfish have no natural predators and are taking food and habitat from native fish that are important to local economies and ecosystems.

The expert
Dr. James Morris is an ecologist with the National Centers for Coastal Ocean Science. Dr. Morris has a bachelor's and master's of science in biology from East Carolina University and a PhD in biology from North Carolina State University. His research focus includes invasive species and aquaculture. James has been researching lionfish since 2001.
How to join in the discussion
Use Twitter to chat with lionfish expert James Morris on Thursday, November 14, 2013 at 2:00 p.m. ET, and Tweet your questions to @NOAAocean using hashtag #NOAALionfish