Live-fire Weapons Shoot by USS Cowpens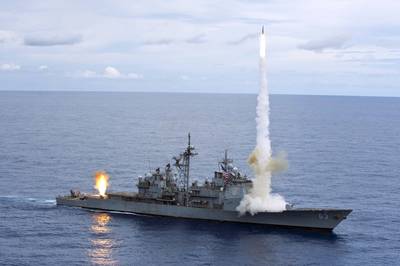 The Ticonderoga-class guided-missile cruiser 'USS Cowpens (CG 63)' carries out a live missile shoot in the W. Pacific.

Standard Missiles (SM) 2 were fired at an airborne drone during the live-fire weapons shoot.
USS Cowpens is part of the George Washington Carrier Strike Group, the U.S. Navy's only forward deployed carrier strike group, and is conducting a routine patrol of the western Pacific region.

The excellent photo was taken by U.S. Navy photo by Mass Communication Specialist 3rd Class Paul Kelly.