Customs Control Zone at Yanino Logistics Park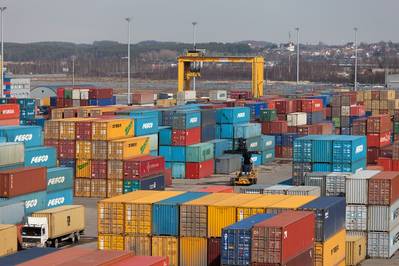 Terminal's links extended to ports of neighbouring states including EU and APEC countries.

Global Ports has announced that a Permanent Customs Control Zone (PZTK) has been put into operation to join the sidings of the Logistics Park at Yanino ("Yanino" or the "Logistics Park") and Zanevsky Post, the adjacent station of the St. Petersburg branch of Oktyabrskaya Railway. The relevant license for operation has been signed by the Baltic Customs of the Russian Federation. Now Yanino will be able to handle clients' cargo that has entered Russia via railway from countries outside of the Customs Union of Russia, Belarus, and Kazakhstan.

This new customs control zone will enable the integration of the terminal into the global transport network by linking Yanino with ports of neighbouring states including both European and APEC countries. The opening of the PZTK demonstrates the final stage of the development of new transport and logistics processes of import cargo handling using "dry port" technology. Yanino now offer a service for the sorting, temporary storage and customs clearance of bonded cargoes delivered by rail by way of a simplified delivery procedure to Russian recipients.

Earlier this year in April, the Yaninsky customs point of Baltic Customs was opened, which significantly simplified the transfer of bonded cargoes between the sea terminals of the Big Port of St. Petersburg and Yanino. The launch of PZTK will allow the full implementation of the technological capacity of the Logistics Park's developed infrastructure.

The new customs terminal at Yanino will carry out customs clearance of cargoes, arriving via truck, sea and railway transport from the terminals of the Big Port of St. Petersburg and foreign ports, as well as those entering Russia across land borders. Global Ports' clients will also be able to clear customs for cargo shipped from the Group's Vostochnaya Stevedoring Company's container terminal in the Far East.

Victoria Scherbakova, Head of Yanino Logistics Park commented, "The opening of PZTK at the terminal and the launch of this customs point of Baltic Customs will not only increase Yanino's capability for dispatching, handling, clearing and reloading cargo, it will also elevate the company's service offering to an entirely new level".