Deep Blue at London Boat Show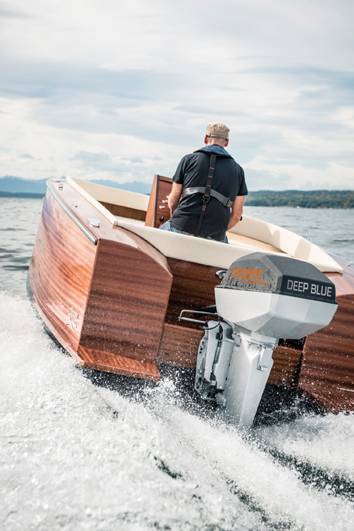 The world's most powerful production electric outboard .

Torqeedo, market leaders in the fast growing electric outboard motor industry, will be showcasing the newly launched - and overall winner of the prestigious DAME award - Deep Blue electric outboard system at the Tullett Prebon London Boat Show taking place from 12th to 20th January 2013, together with the full range of Torqeedo high-tech outboards.

During the show, Torqeedo will be demonstrating the ground-breaking 80 HP Deep Blue electric outboard system from its berth, M120, to showcase the cleaner, quieter and more economical boating experience it offers.

The revolutionary Deep Blue system successfully combines the large outboard engine with the electric motor for the first time to produce an integrated propulsion system, offering commercial operators and green boaters outstanding efficiency with greater power and range. Lithium batteries have been used to increase safety and come with a nine year capacity guarantee. The system also features an onboard computer that uses GPS to calculate remaining range as well as display travel time and direction to individual waypoints.

Commenting on the launch of the Deep Blue system, Torqeedo founder and CEO, Dr. Christoph Ballin said, "We are delighted to be presenting the Deep Blue system at the London Boat Show, which will be the first time it has been showcased to the UK market since its launch in November.

"With battery costs being independent of the amount of usage, commercial users with petrol costs over £3,600 can begin to save money by switching from a petrol to an electric motor, such as the Deep Blue. The fact that it is naturally more environmentally friendly and forward-thinking, as well as being much quieter than a petrol motor, is a bonus.

"The Deep Blue system will also be most welcome for boat owners on waters where the use of petrol motors is limited or prohibited, offering price-performance ratio benefits, together with comfort and safety over the individually manufactured drives, which have previously dominated this segment of the market."

The Deep Blue system has a battery capacity between 26 kWh and 52 kWh and a recommended selling price (excluding batteries) of £14,999. Battery bank prices are dependent on capacity and range from £24,598 (26kWh) to £49,196 (52 kWh). With Deep Blue being a 325V DC high-voltage system, it is offered to commercial boat users and sold via boat manufacturers where installation is included during production.