Long Beach Approves Toyota's Green Terminal Makeover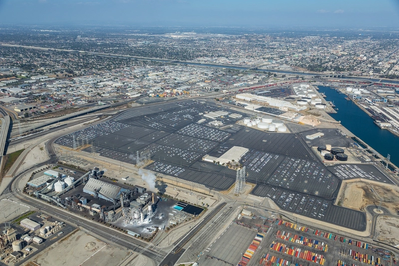 The Long Beach Board of Harbor Commissioners has given Toyota Logistics Services the green light to carry out a proposed major terminal upgrade project that includes the construction of a renewable energy fuel-cell power plant and hydrogen fueling station.
The planned redevelopment aims to improve efficiency at the Toyota-operated marine terminal at Long Beach's Pier B, where new automobiles are offloaded from ships, processed and transported off-site via truck and railroad.
Work on the private project, which is expected to begin before the end of 2018, will include replacing separate office, car washing, fueling, auto body and other facilities with a new, single building. Plans also call for construction of a 2.3 megawatt fuel-cell power plant and a new fueling station that will include hydrogen. The project is planned to be completed in 18 months.
"Toyota is demonstrating hydrogen fuel as a viable alternative for fueling vehicles," said Harbor Commission President Tracy Egoscue. "The example they are setting at the Port of Long Beach should be applauded not only by the goods movement industry, but by everyone who wants a sustainable present and future for our planet."
"Toyota is one of our oldest customers," said Port of Long Beach Executive Director Mario Cordero. "We've grown together during a business partnership that's almost a half-century old, and part of the reason we've remained successful is recognizing the need to invest in modernization projects like this to improve our operations."