Jensen Designed Longliner Wins Award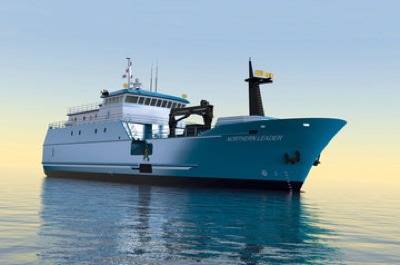 Jensen Maritime awarded for vision and innovation in design of the 'Northern Leader' longline fishing vessel.

Jensen Maritime , Crowley Maritime Corp's Seattle-based naval architecture and marine engineering firm, has been honored with the New Wave Award, which recognizes the company's vision and innovation for the concept and design of the Northern Leader, a 184-foot long, environmentally-friendly longline fishing vessel owned by Alaskan Leader Fisheries LLC.

The Northern Leader is currently under construction at J.M. Martinac Shipbuilding Corp., in Tacoma, Wash., and is expected to be delivered to its homeport of Kodiak, Alaska, in April 2013.

This vessel will be one of the world's largest commercial longline fishing vessels and is also the first Z-drive, diesel-electric fishing boat ever produced. Jensen has provided complete marine engineering services for the vessel, ranging from concept design to production engineering and even 3D fly-through modeling.

When complete, the Northern Leader will be 184-feet long, 42-feet wide and will have a depth of 18.75 feet. It will be used in support of commercial, longline fisheries in the North Pacific, Bering Sea and Aleutian Islands. Longline fishing is a technique that uses a long, main line that can be many miles in length, with baited hooks attached at intervals to target swordfish, halibut, tuna, sablefish, rockfish and other species.

The vessel will have 38,000-cubic feet of freezer hold representing a frozen production capacity of 1,867,000 pounds, making it one of the largest capacities of any longliner vessel. It will also be capable of fishing 76,800 hooks using a Mustad Autoline Super Baiter (Norway) simultaneously and will have a daily freezing capacity of 153,000 pounds of H&G production.