SPI Debuts Low-cost Thermal Pan Tilt Camera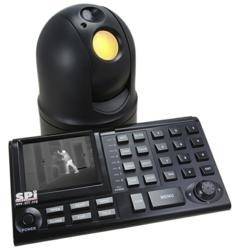 SPI Corp, a leading manufacturer/distributor of thermal pan tilt camera systems for UAV's, vehicles, boats & building infrastructure introduce new unit.

A thermal pan tilt camera system, like the SPI CORP M1-D, is a remote controlled imaging system that can be mounted on boats, cars, buildings and UAV's. A typical system would be comprised of the pan tilt thermal camera head and a remote joystick and monitor for the operator to position the camera and view the scene. The New M1-D thermal pan tilt camera package combines a 640x480 thermal camera, visual CCTV camera and a laser pointer into the remote controlled pan tilt housing and comes with all support accessories.

"Our M1-D pan tilt thermal camera has been a huge hit worldwide, we can hardly keep them on the shelf." explained Randall Kolchins, Director SPI CORP. "Amidst the overwhelming demand we have had some feedback from our domestic customers asking for a super high resolution model that came complete in a turnkey package but still had a reasonable price point."

Professionals in the UAV, Marine, Vehicle and Law Enforcement markets are well aware of the advantages thermal imaging provides them. However, the high price and complicated setup have been cited as the top reasons why agencies have not purchased this technology.