New Luxury Fast Ferry on Boston Route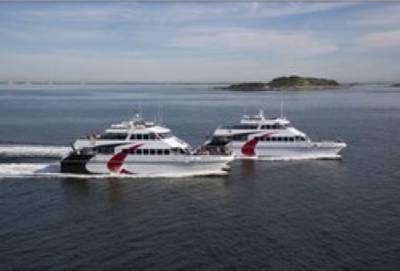 Bay State Cruise Company has introduced their brand new fast ferry, the 'Provincetown IV' which now travels between Boston and Provincetown, M.A. The operators say that thisvessel will boast more power, less emissions and a smoother ride in rough weather when compared to Bay State's currently-operating fast ferry, the 'Provincetown III'.

The Provincetown IVis the fifth vessel that Bay State Cruises has dedicated to the Boston to Provincetown route since the company's first vessel, "Provincetown", in 1973, and today Bay State claims to serve as the operator of the two newest vessels in Boston Harbor.
"We are excited about being able to provide New England with this new vessel – the most modern and luxurious high-speed catamaran in the U.S. and the greenest ferry in Massachusetts," said Michael Glasfeld, owner of Bay State Cruise Company.

Bay State Cruise Company plans on operating the new fast ferry alongside the existing fast ferry on its current schedule, whenever passenger demand requires additional capacity.

"We have added one special new departure time," says Glasfeld. "We're now running Monday morning, at 6:30 a.m. from Provincetown to Boston. This has granted our passengers an extra night in Provincetown, prior to returning to their workweek in Boston and beyond."