M Ship Aim: Safer Vessels for Special Ops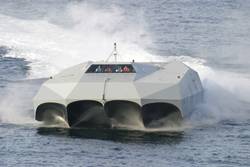 The San Diego-based company received $2m in Congressional funding that will allow USSOUTHCOM to rapidly field an operational demonstrator for the evaluation of a shock-mitigating craft. The craft will feature an advanced hull design and will be constructed of advanced composite materials to reduce operational injuries and lower procurement risk.
"M Ship's advanced hull research has demonstrated significant reduction of human exposure to accumulated spine stresses and repetitive impact injuries of personnel aboard high-speed military craft," said Bill Burns, designer and co-founder of M Ship Co.
An analysis of the mechanical shock effects of high-speed planing boats by the Massachusetts Institute of Technology found that high-speed operations, combined with factors of boat design/size and ocean waves, result in an adverse shock environment for the personnel and the equipment aboard. The study showed that the Special Warfare Combat Crewman (SWCC) suffered almost 100 percent injury occurrence rate as their time in Special Boat Unit (SBU) increased above 10 years.
Side-by-side testing with USSOUTHCOM and M Ship on August 7, 2007, between M Ship's M-hull technology demonstrator and a Naval Special Warfare 11M-RIB showed to USSOUTHCOM the M-hull design's performance advantages in reduced crew injuries through well over 50 percent shock mitigation.
" is home to Coast Guard, Customs and Border Protection and Navy personnel who have high-speed missions on the water making them vulnerable to unnecessary injury," Burns added.
The funding for the project is contained in H.R. 2638, the "Consolidated Security, Disaster Assistance, and Continuing Appropriations Act, 2009" signed into law on Sept. 30, 2008, and contains FY 2009 appropriations for the Department of Defense.
The demonstrator vessel will be an outgrowth of the futuristic looking M80 Stiletto. The Stiletto is an 88-foot experimental M-hull craft that earlier this year completed a successful 6,000 nautical-mile deployment on a drug interdiction and apprehension mission with USSOUTHCOM in the waters off , the and the .
The operation included a number of firsts:
• First carbon-fiber, M-hull vessel used in real-world operations
• First Office of the Secretary of Defense experimental vessel supported real-world operations
• First airship to coordinate with Stiletto to demonstrate a new concept of operations (CONOPS) for counter-illicit trafficking operations