Magdalena River Project Dredges Up Economic Promise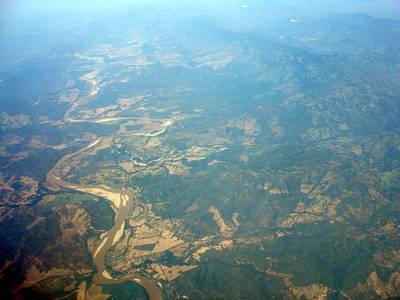 The hulking backhoe dredges up rocks and silt from the shallows of the muddy Magdalena River in the first laborious step to transform the waterway into an engine of economic growth.
The excavation along a verdant stretch near Barrancabermeja, an inland oil and coal hub, is part of a $600 million government bid to reclaim the river, once Colombia's primary transport route.
By clearing logjams, the aim is to allow big cargo barges to steam up 900 km (560 miles) from the Caribbean coast to Puerto Salgar, close to the capital Bogota. Currently only smaller barges can navigate as far as Barrancabermeja, 250 km (155 miles) from Puerto Salgar.
The project, due to be completed in six years, could spur potential investment by manufacturers and raw material producers keen to reap the benefits of new river transport after enduring decades of costly, inefficient and dangerous roadways.
President Juan Manuel Santos's bid to ease travel and reduce freight costs comes as he tries to shift reliance in the slowing economy away from oil, coal and other traditional exports hit by price plunges.
The government predicts a fivefold increase in river transport - to 10 million tonnes annually by 2029 - and new industry along its banks will add up to one percentage point of economic growth and help conquer new markets like China.
"The Magdalena River will transform Colombia," said Carlos Nunez, head of Cormagdalena, the government agency overseeing digging, which began in June. "It's our salvation."
Exporters currently rely on notoriously congested and badly maintained roads, as 18-wheelers sit bumper-to-bumper on mountain passes frequently washed away by avalanches.
Fifty years of conflict with Marxist rebels makes road travel risky, with insurgents attacking trucks and forcing drivers to spill oil and other goods onto roadways.
The river, soon to be dotted with dozens of dredges, snakes from rugged Andean valleys to the Caribbean port of Barranquilla.
While the ambitious project faces opposition from the trucking industry and environmentalists, the government expects it to offer speedy passage of everything from heavy petroleum and industrial chemicals to flowers and toilet paper.
"It's much cheaper because of the large quantities," Nunez said. "A convoy of barges can shift 7,200 tonnes in one trip. To move 7,200 tonnes by road requires 240 tractor trailers."
"Logistics savings could be between 30 and 50 percent, which will make national products more competitive for export."
Right now it takes six days to get goods 650 km (405 miles) by river from Barranquilla to Barrancabermeja, then several days by road to final destinations like Bogota. With the expansion that river and road trip would take six days total, allowing faster export of raw materials and efficient imports for manufacturers.
"Time will be halved, and most importantly, you won't have to take apart your convoy (of barges)," said Jorge Barragan, director of the Navelena consortium, which won the contract to carry out the project.
Navelena, 87 percent owned by Brazilian infrastructure company Odebrecht, will fund most of the project and profit from toll charges for seven years after its upgrade of the waterway.
Faster river transport could cut costs for the beleaguered oil industry, including state-owned Ecopetrol, which provides almost a quarter of government revenue.
Transporting a barrel of crude by river instead of road could save companies $13 a barrel, Cormagdalena's Nunez said.
"With oil at $100 a barrel, $13 doesn't really matter, but if prices are $50 or $40, $13 means a lot."
Ecopetrol, 88 percent-owned by the government, has funded $25 million of the project.
Impala Terminals, a subsidiary of Swiss commodities trader Trafigura,is investing over $300 million and employing hundreds at a new port in Barrancabermeja to expand its oil and grains business.
"The dredging project will without doubt allow the river to be the highway Colombia needs to be more competitive," said Impala's local manager Alejandro Costa.
Steelmaker Acesco sees 30 percent savings in transport, an executive said.
Though popular, the project may also bring trouble. Truckers groups, which have snarled roadways nationwide during protests, fear for their livelihoods.
"Output is static; trucks are often idle, then we add more competition?" said Asecarga trucking guild head Jairo Herrera, who fears a 10 percent drop in the 220 million tonnes of cargo annually. "Things will be critical."
Demand for trucks is already down because of oil production declines and expanded pipelines said Ekaterina Cuellar, analyst at economic think-tank Anif, and the river project will only increase truckers' concerns.
"We could definitely see protests," she said.
Environmentalists have also expressed concerns. Thomas Walschburger of the Nature Conservancy said dredging will dry up wetlands and put wildlife at risk.
(By Julia Symmes Cobb; Additional reporting by Nelson Bocanegra; Editing by Helen Murphy and W Simon)