Subsea Global Solutions Performs Propulsion Maintenance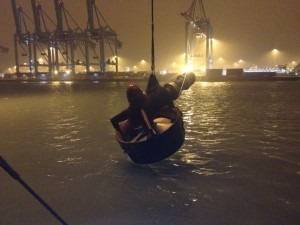 Underwater demountable Azimuthing Thruster exchange offshore vessels maintain a strong day rate, even in a down shipping market. Just like all waterborne vessels, they require maintenance and repair on occasion.
Subsea Global Solutions is available when and where required to meet these unplanned moments of need. Subsea Global Solutions maintains a fully employed work force of diver/technicians around the world and can mobilize quickly with qualified personnel to meet the needs each and every day.

In March, an offshore vessel found itself with an opportunity to perform critical maintenance and overhauls to its main propulsion thrusters. This required the units to be demounted efficiently and safely so that a pier side machine shop could perform the necessary scheduled maintenance to the units. As the units weighed over 60 metric tons a complete dive plan, job hazard analysis and communication plan was necessary to ensure a safe and efficient thruster exchange.

With only five days notice, the engineering department of Subsea Global Solutions worked together with the vessel management, subcontractors and port authorities to develop the installation specific dive plan, job hazard analysis and rigging plan to execute the work. Concurrently the operations department within Subsea Global Solution's office in The Netherlands mobilized the equipment and personnel to the location in anticipation of vessels arrival. Once the vessel arrived, operations commenced immediately. Working throughout the night, the main propulsion Azimuthing thruster was safely demounted in one long working shift. Once top side, maintenance and repairs commenced.

Upon completion of the maintenance and repairs the unit was again installed within one working shift. From notice to proceed to the completion of the work, Subsea Global Solutions supported all activities from initial planning to releasing the lines and watching the vessel depart back to the oil patch.