Glomaris Enters Malaysian Market with Orkim Deal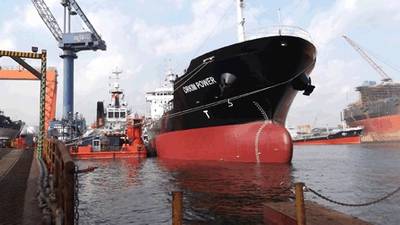 Malaysia-based Orkim Ship Management (ORKIM) is the latest shipping company to turn to E Foqus for its
software solution
in commercial and voyage operations.
Orkim is a tanker operator for Clean Petroleum Product (CPP) in the region, having long-term contracts
with oil and gas operators
.
"Orkim will act as E Foqus' ambassador in this region, and we can expect
Malaysian shippers
to take a keen interest in the increased efficiency and stronger business processes that the company will enjoy with Glomaris Systems," said Niels Ammendrup the COO of E Foqus.
For Glomaris, the downturn in the shipping industry underlines the crucial importance of reduced operating costs, while improving efficiency through intelligent solutions.
Capt. Mohan, the General Manager for Commercial division for Orkim, added that "Glomaris has all the features we were looking for and more, above all its superior technology and user friendliness. The solution is designed to optimize efficiency by automating tasks and giving the user total support to improve bottom line."
The benefits will show up quickly on Orkim's bottom line, which can be critical in the current choppy shipping environment.
E Foqus' CEO, Chris Winther, said, "We will give Orkim all the support needed to ensure that the company achieves its bold ambitions. We at E Foqus are very proud to have won Orkim's confidence, and will strive to make the relationship truly fruitful."