MAN Engines for Chinese Ferry Company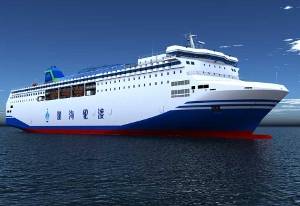 Bohai Ferry Co., Ltd. has ordered four MAN 16V32/40CD propulsion plants to power two passenger vessels to supplement its fleet. The four-stroke engines will be built at MAN Diesel's production centre in Augsburg, Germany, and will operate at 750 rpm, providing a total of 16 MW of installed power for the 2300P/2500LM RoPax vessels.

The ferries will be built at Huanghai Shipbuilding Co. Ltd., in RongCheng City, Shandong Province, and the order includes an option for two other vessels.

Bohai Ferry Co., Ltd. has also ordered twin-screw, controllable pitch propeller (CPP) propulsion systems from Alpha, suitable for ice class B. The MAN Diesel scope of supply includes two single-stage reduction gearboxes from Renk for each vessel. Delivery of the propulsion systems is expected to take place in the first half of 2011.

Bohai Ferry Co., Ltd is a major passenger-liner transportation enterprise in Bohai Bay, Northeastern China. It deals mainly with passenger transportation on the Yantai-Dalian and Penglai-Dalian sea routes where the company already operates several, large passenger liners.