New Low Manganese Welding Flux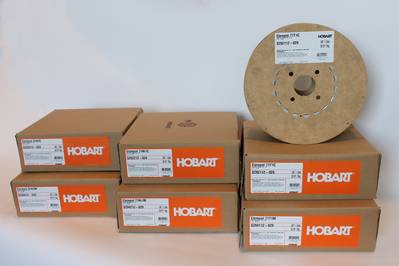 Hobart Brothers say that their new family of flux-cored wires offers the lowest manganese levels in the marketplace.
A family of six new Hobart® gas-shielded flux-cored wires have been introduced to address the increasingly stringent environmental requirements and recommendations set forth by regulatory bodies such as the American Conference of Governmental Industrial Hygienists (ACGIH) and the Occupational Safety and Health Administration (OSHA).
The new Hobart Element™ wires produce manganese emissions well below the levels of other gas-shielded flux-cored wires on the market. Because of the innovative formulation of the flux fill, the wires achieve these low manganese levels without sacrificing mechanical properties or weldability. They provide very low spatter levels and consistent arc stability, ensuring reliable welding performance on a variety of applications.

"Hobart is a very progressive company, and we are always looking for new ways to solve our customer's challenges," explains Jennifer Monnin, general manager, tubular wire division at Hobart Brothers. "After monitoring potential new regulations around manganese levels, we knew we could develop a product that would help our customers contend with potential new requirements and recommendations."

In addition to low manganese levels, the new Element wires' enhanced out-of-position welding capability and consistent operability make them ideal for improving productivity in shipbuilding fabrication, general fabrication and heavy equipment manufacturing. The easy slag release (combined with low spatter levels) also helps reduce pre-weld activities such as anti-spatter application, along with post-weld grinding and/or sandblasting. The Element wires also feature low hydrogen levels (approximately 5.0mg per 100g of weldment) and good impact toughness at low temperatures to minimize instances of cracking – a particularly beneficial feature in structural steel applications.

The Element wires also provide optimal tensile strength, which further reduces the likelihood of weld metal cracking. Each of the 71-type wires offer tensile strengths in the range of 70,000 to 75,000 psi, while the two 81-type products produce welds with tensile strengths between 80,000 and 85,000 psi.

Three of the six new Element wires are available for operation with 100 percent CO2 shielding gas. These include the Element 71T1C, Element 71Ni1C and Element 81K2C wires. The Element 71T1M, Element 71Ni1M and Element 81K2M wires are designed for mixed-gas operation and are qualified with a shielding gas mixture of 75 percent argon and 25 percent CO2.
These wires are approved by ABS (American Bureau of Shipping), and are available in 0.045- and 1/16-inch diameters on 33-pound spools. A 0.052-inch diameter wire will be available soon.

The Element family of low manganese wires complement fume extraction products offered by Miller Electric Mfg. Co. and Bernard, including Miller® PAPRs and FILTAIR® fume extraction equipment, and Bernard™ FILTAIR Fume Extraction Guns.

For more information, click here.