Ocean Signal Contracts With Life Jacket Manufacturer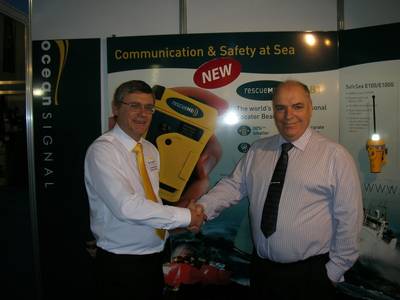 Ocean Signal forge a new partnership with International Safety Products (ISP) – a leading manufacturer of inflatable life jackets.

Merseyside-based marine firm ISP will handle all UK distribution for communications and safety at sea specialist Ocean Signal after the deal was finalised this week.

Ocean Signal, which is introducing its rescue ME PLB1, the world's smallest personal locator beacon*, at this year's London Boat Show, has also developed the highly-acclaimed SafeSea® range of products which provide all essential handheld communication devices required in an emergency situation.

ISP will have key responsibility to increase UK sales of Ocean Signal's product range and build on the success of a portfolio which has already ensured the company has quickly become a leading global brand in communication and safety at sea.

"We are delighted to announce the partnership with ISP to distribute Ocean Signal's products in the UK," said Alan Wrigley, Managing Director of Ocean Signal. "As one of the world's leading manufacturers of marine life jackets and providers of marine safety equipment, they have the knowledge and experience of the industry to strengthen our position in the UK market. They also have the contacts and understanding in the commercial sector to increase our presence in this area.
In the picture: Ocean Signal Managing Director Alan Wrigley (left) and International Safety Products Director Geoff Billington at Ocean Signal's stand at the Tullett Prebon London Boat Show 2013