Northstar to Acquire Sonar Manufacturer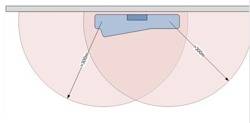 Advanced technology company Northstar Electronics intends to buy Echotec Sonar Corp
To expand its base of subsidiaries Northstar Electronics, Inc., a holding company with executive management specialized in design engineering, defense, advanced systems, security, sonar, systems integration, and prototyping fields informs of a letter of intent to purchase Echotec Sonar Corp, a cutting edgei manufacturer of High Definition Omni Sonar (HDOS) specifically targeted for the defense, scientific, commercial shipping and commercial fisheries markets.
Echotec Sonar designs, develops, and will manufacture and sell value‑priced (HDOS) systems capable of rendering objects in both 2-D and 3-D with extreme resolution. Based on sonar concepts derived from object identification and threat detection, harbor security and obstacle avoidance research, Echotec Sonar plans to develop a family of products around the HDOS which will add a level of technological innovation that surpasses contemporary sonar systems. With one of the best price‑performance measures, the HDOS© is designed to meet the specific demands of the defense and scientific communities, utilizes state of the art technology, is affordable, and light weight with a small footprint. These compelling features meet the needs of many required applications.
The transducer (underwater component) is an extremely sensitive unit, which provides accurate calibrated data to the processor and video system (inboard component). Combining innovation in both the underwater and inboard components, high-resolution images are rendered with instantaneous 3D capabilities, wireless mobile device integration, and control. The image definition is so high that it is possible to provide a fish count and perform species identification for the fisheries market. For the security and scientific community, it can provide threat identification and analysis for objects of interest, such as an intruder diver swimming nearby. The software and control systems are easily modified to suit the specific needs of each of the; defense, scientific, commercial shipping, and fisheries markets.
The products will be designed for retrofit to existing equipment on all types of vessels from commercial fishing vessels to luxury cruise ships (e.g. Costa Concordia), lowering the cost of ownership and reducing time to install.