Lamprell to Implement Software for Automated Manufacturing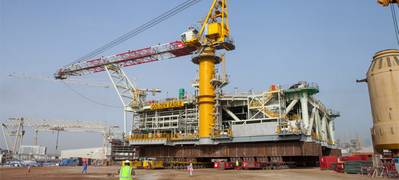 U.A.E based offshore jackup rig builder Lamprell Energy Ltd., will implement SSI's EnterprisePlatform software solution to allow its engineering team to automate manufacturing processes.
Acording to SSI (developer of ShipConstructor software), the immediate benefit will come from streamlining and automating Lamprell's processes used to control robotic machinery on the production floor (e.g. CNC Profiling Machines) based on information from the engineering department's ShipConstructor-based product data model.
Lamprell will also initiate training and consultation with SSI's business process analysts to determine expanded applications of the EnterprisePlatform solution.
SSI EnterprisePlatform is a new line of products from SSI that enables engineering information in a product data model, such as the ShipConstructor Marine Information Model (MIM), to be available across an organization. This information can be shared with, and accessed by, multiple individuals, software applications and production equipment utilized in the marine construction process. This includes people, programs and processes outside of the Engineering Department. The SSI EnterprisePlatform generates information in the correct format and representation needed for varying use cases and brings a product-focused approach to enterprise-wide availability of engineering data that is cost-effective, scalable, configurable, consistent and transparent.