New Wartsila Manufacturing Facility Opens in China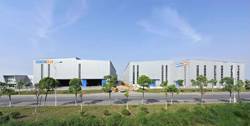 Wärtsilä CME Zhenjiang Propeller Co Ltd, the joint venture between Wärtsilä Corporation and Zhenjiang CME Ltd, inaugurated its new manufacturing facilities for controllable pitch (CP) propellers in Zhenjiang, China. Wärtsilä CME has invested EUR 12 million (over $17 million) in these facilities, as the company had announced last October.

Wärtsilä CME Zhenjiang Propeller is the first company in China to manufacture Wärtsilä-designed, hydraulically-operated CP propellers. The first deliveries from the new factory are planned to take place later this year.

"Most ships are today built in Asian shipyards, and China has emerged as the world's primary shipbuilding nation. We have taken consistent steps to broaden our presence and production capacity in China, close to our marine customers. The relocation of our Ship Power management team to offices in Shanghai in 2008 further emphasises Wärtsilä's commitment to China and the Asian markets," said Ole Johansson, President & CEO of Wärtsilä Corporation, at the inauguration event in Zhenjiang on 29 June 2011.

The new factory provides the capability to assemble and machine all sizes of controllable pitch propellers. The in-house bronze castings are supplied from an existing foundry located in the company's fixed pitch propeller factory. The majority of the new factory's manufacturing equipment was transferred from the Wärtsilä factory in Drunen, the Netherlands, where production was closed in 2010.

Most of the propellers produced in the new factory will be sold to the rapidly growing Chinese markets, with some 30 percent of the production likely to be exported. As about 20 percent of the world's new build vessels use CP propellers of the type manufactured in the new factory, Wärtsilä foresees significant potential in all global markets in addition to the Chinese market.

China has become the leading ship building country in the world. In 2010, China secured the majority of global new building orders. Last year, Chinese ship owners were the most active, ordering more than 20 percent of all vessels ordered.

Wärtsilä has been present in China for more than 20 years, through its fully owned subsidiary and long-term licensing agreements. To serve the world's largest shipbuilding region, Wärtsilä has established joint ventures for propeller and auxiliary generating set production with leading Chinese shipbuilding groups. Wärtsilä also manufactures thrusters at its 100 percent owned company facilities, while low-speed engines are produced via a joint venture operation

In the marine market, the leading Chinese ship owners are Wärtsilä customers. In the energy markets, Wärtsilä has delivered altogether 3,500 MW of power plants to China. Wärtsilä Services provides service and maintenance for its customers from five locations in China, the largest of which is in Shanghai.

Including Wärtsilä joint venture companies, there are altogether more than 1800 Wärtsilä employees working in China today. Wärtsilä CME in Zhenjiang currently has 470 employees. The commencement of CP propeller production will slightly increase the number of employees.