MARAD Steps Up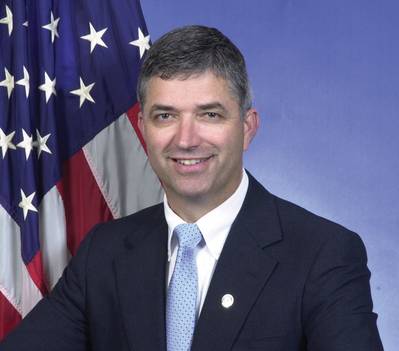 The U.S. Maritime Administration & Maritime Security Initiatives

The paradigm for global transportation security underwent a dramatic shift in the aftermath of the September 11 terrorist attacks. In the years that followed, industry and government worked together to add layers of security to mitigate risk while maintaining the flow of commerce.
The Department of Transportation's (DOT) Maritime Administration (MARAD) has since developed security initiatives which ensure safety and efficiency in America's Marine Transportation System (MTS) by focusing on three crucial improvement categories: transparency, accountability and resiliency. This three-point strategy hastens the flow of information between MTS stakeholders and mandates security training and awareness for key transportation officials. These improvements provide stakeholders the means to not only monitor MTS's worldwide resources and distribution systems, but to also respond and recover from complications which occur in a global transportation network.
MARAD was tasked with applying this security enhancement method to five different MTS areas: supply chain security, maritime domain awareness, maritime security training, the MarView Portal, and anti-piracy efforts.
In January 2012, the Department of Homeland Security (DHS) announced its two-fold National Strategy for Global Supply Chain Security: 1) Promoting the efficient and secure movement of goods, and 2) Fostering a resilient supply chain. MARAD's aforementioned approach is well suited to assist in implementing that strategy. MARAD serves as a vital intermediary between the commercial and governmental ends of the supply chain. Its Office of Security has collaborated with local, state and Federal agencies to establish a level of transparency whereby private stakeholders obtain and share the same information as MARAD personnel. On the accountability front, MARAD supports several interagency efforts aimed to report on security responsibilities within the global supply chain, such as field reviews and national selections for the FEMA-led Port Security Grant Program. MARAD also compiles and routinely issues advisory updates to US-flag vessels and other maritime interests. Moreover, MARAD has used its status as government-industry intermediary to encourage and even develop resiliency protocols which make MTS entities both safe and economically sensitive. MARAD has spearheaded several awareness programs to this end, including its cyber security campaign as well as its Maritime Domain Awareness (MDA) initiatives with interagency partners including the USCG, Navy, and the National Maritime Intelligence Integration Office.
MDA constitutes a sufficient understanding of any factor associated with the maritime domain that could impact security, safety, economy, or the environment. DOT designated MARAD as the Executive Agent (EA) to lead the initiative on behalf of the department. The EA for this program devotes much of its attention to maintaining transparency across all MTS centers, including the 300 ports and 3,700 cargo and passenger terminals managed in the U.S. The EA's greatest challenge, however, is developing situational awareness throughout MTS's various administrative spheres, including vessel operations, cargo channels, and personnel involved in infrastructure.
The MarView Portal has been vital to his success. MarView is an expansive, thoroughly maintained database provided by MARAD for the purposes of convenient information and data retrieval. Users can facilitate and monitor the responsibilities which MTS entities have to both transportation strategy and economic viability. Specifically, the MarView Portal hosts more than 2500 source links of transportation data, which can be used to create models and simulations for capacity planning, economic impact analysis, on-demand forecasting, as well as plans for mitigating and reacting to emergency situations. The Portal can also independently generate its own analyses and calculations for user review, such as geospatial modeling of MTS transportation and Crisis Tracking and Emergency Notification (CTEN). In making available a wide array of crucial MTS information – ranging from vessel characteristics to statistics on licensed mariners – MARAD aims to systematically improve safety, security, and even environmental efficiency within the MTS.
MARAD also works toward improvement of the MTS by continuing its proud tradition of excellence in training both the current and incoming maritime workforce. An integral entity within MARAD in support of maritime security is the United States Merchant Marine Academy (USMMA). The faculty not only trains future leaders in the industry, but also plays a pivotal role in developing the model security courses required by the Maritime Transportation Security Act of 2002 (MTSA). Section 109 of the MTSA requires the Secretary of Transportation to "develop standards and curriculum to allow for the training and certification of maritime security professionals." DOT delegated this responsibility to MARAD and the Maritime Administrator charged the USMMA with its execution.
The Academy's work on the MTSA Section 109 project led to USMMA responsibility for the development of International Maritime Organization (IMO) model courses for Ship Security Officer, Company Security Officer, and Port Facility Security Officer under the provisions of the ISPS Code. This project, undertaken jointly with the Government of India's Directorate General of Shipping under the coordination of the U.S. Coast Guard, was completed in September 2003. The model courses are now the international benchmarks for maritime security training, having been published by the IMO for use by training providers, carriers, and others worldwide. Since then, the Academy has updated existing model courses and added ones to include a broad sector of maritime personnel, first responders, military, and law enforcement. Last year, the Academy developed an additional five model courses in maritime security for IMO.
As a credit to MARAD's success in improving training programs, MARAD has implemented a voluntary MTSA 109 approval program with rigorous certification process for maritime security training providers. The Administration sets forth a challenging set of criteria which providers must fully meet in order to be certified to deliver training, ensuring that industry leaders groom future leaders. From the time MARAD's training certification program was first commissioned, more than 25,000 individuals have been trained, and over 50 training providers approved. An approved list of these providers is available on the MARAD website, marad.dot.gov/documents/
MTSA_certified_courses.pdf
Last year, a coordinated effort between MARAD, the USMMA, the FBI, and the USCG introduced an entirely new model coursework on Crime Prevention, Detection, Evidence Preservation and Reporting in response to the Cruise Vessel Security and Safety Act of 2010. This much-needed guidance upon which education and training providers can base instruction for the prevention, detection and evidence preservation and reporting of criminal activities in the international maritime environment was published in June 2011.
Since the problem of piracy escalated in the Horn of Africa (HOA) region in 2008, MARAD has worked extensively with the U.S. Coast Guard and the Department of State to develop strategies that protect commercial shippers from pirate attacks. These strategies have been discussed and deliberated upon by the U.S. Delegation to the IMO's Maritime Safety Committee, on which MARAD's Office of Security serves as a member. The office has also served with the U.S. Delegation on the Contact Group on Piracy off the Coast of Somalia, which supported naval, industry, judicial, and diplomatic efforts that decreased the number of successful pirate attacks in the HOA by nearly 50%.
Through these and other coalitions, MARAD has backed several piracy mitigation strategies which have made substantial impacts on the issue. For instance, the development of circulars and annexes for the IMO has helped flag states and industry obtain valuable advice on preventing successful pirate attacks. MARAD supplemented these notices by establishing both the frequent publishing of MARAD and Office of Naval Intelligence (ONI) threat advisories as well as supporting the development of "Best Management Practices (BMP) to Combat Piracy" by international shipping organizations. MARAD also provided input into, and assisted with the distribution of, the U.S. Coast Guard security directives that outline specific, risk-based measures one should take in order to deter, detect and disrupt piracy. To ensure that similar measures are taken in foreign waters which need them most, MARAD and its agency affiliates support international navy vessels which patrol and escort other vessels in the HOA.
MARAD has also collaborated with Military Sealift Command, together establishing the Anti-Piracy Assistance Team (APAT) in April 2009. This voluntary program consists of 1-2 representatives from the Naval Criminal Investigative Service (NCIS) and 1 MARAD official, who visit and assess US-flag vessels in US ports. These representatives then compile a detailed report for the Master and Company Security Officer of the vessel, regarding the areas of vessel operation particularly vulnerable to acts of piracy. More than 50 of these assessments have taken place since the program started three years ago.
As stated and demonstrated above, the tumults of international politics and global economics have created a perfect storm for today's global transportation system. Public and private entities of MTS stay afloat and secure through the crucial balance of safety and expediency which MARAD continually strives for. In implementing vital change throughout both the procedural and infrastructural dimensions of our international transportation network, MARAD has helped shape not just the current state of marine transportation security, but also its future.

Owen Doherty is the Director for the Office of Security at the DOT/Maritime Administration. He is a graduate of the USMMA and the Naval War College.
(As published in the October 2012 edition of Maritime Reporter - www.marinelink.com)