MarineNav Debuts Rack Mount Computers Range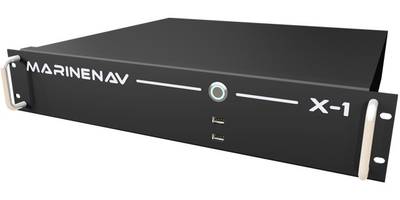 MarineNav has launched a new range of rack mounted computers, available now in
Europe through
distributor Eurotask. The X1 Standard and X1 Fanless rack mounted computers are designed for use in commercial vessels, workboats, superyachts and specialist hydrographic and research vessels.
MarineNav said its rack mounted computers use commercial processors, unlike many other marine computers which use mobile variants, increasing speed and reliability. Built at MarineNav's ISO 9001:2008 certified facility, all units are soak tested for 24 hours prior to dispatch ensuring they withstand the marine environment.
With power, enhanced speed and better reliability, the X1 range offers more than enough capability for vessel navigation and operation systems and is a solution suited for
most marine applications
, MarineNav said. The X1 Fanless is designed specifically to reduce operational noise.
Using industrial components mounted in a rugged, marinized 2U rack system, the X1 range of marine grade computers feature Intel i5 (for Standard model) or J1900 Quad Core (for Fanless) processor, 8GB RAM, a 120GB Solid State Drive, 1TB of Hard Drive, Intel HD Video card, numerous I/O's including RS232, HDMI, DVI, USB ports, Audio in/out and expansion slots.
"The X1 Standard and X1 Fanless are just the first of a new range of marine PCs being developed for international marine markets, and are a great addition to the wide range of MarineNav products we already offer," commented Kevan Merson Managing Director of MarineNav. "We are delighted to be bringing these to the European market through our European distributor Eurotask."
Mark Luffingham, MD at Eurotask added, "Since becoming MarineNav's European Distributor in 2014, we have developed a close understanding with MarineNav, which has shown a real commitment to developing product for the European market and we are looking forward to working with the MarineNav Team on this project over the coming months."
The X1 carries a two-year warranty and is priced from €2,109.00 (£1,550.00) ex VAT including a Windows 7 64bit
Operating System license
. The X1 Standard and Fanless are just the first of a number of new models that will be marketed in the new X1 range.