Marinette Marine to Build More Coast Guard RB-M's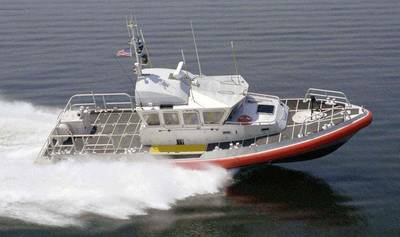 Marinette Marine Corporation a Fincantieri Company contracted to build an additional 4 Response Boats – Medium (RB-Ms) by the U.S. Coast Guard.
With an approximate value of $9,400,000, the new boats are part of a multi-year, Coast Guard contract requiring the construction and delivery of up to 250 RB-Ms at a total contract value of up to $600 million.
Delivery of the 4 boats is scheduled to begin in the third quarter of 2014. This brings the total number of boats under Contract to 170. Marinette Marine builds 50% of the boats at its ACE facility in Green Bay WI. MMC's Teaming Partner, Kvichak Marine Industries of Seattle, builds the other 50% of the boats at its Kent, WA facility.
"Marinette Marine Corporation is proud to partner with the United States Coast Guard to build the Response Boat-Medium. Our long history of delivering on schedule and within budget is a testament to our dedicated workforce and our commitment to quality and integrity in supporting the USCG's mission," said Chuck Goddard, President and CEO of Marinette Marine Corporation. "We look forward to continuing this long and successful relationship."

www.marinettemarine.com