Dubai Maritime City Ends Cruise Season With Safety Drill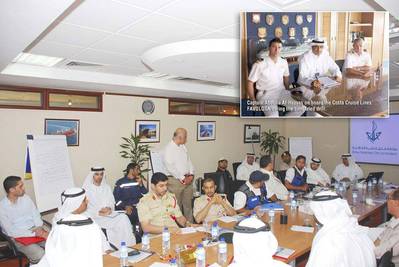 Dubai Maritime City Authority (DMCA), the government authority charged with regulating, coordinating and supervising all aspects of the maritime sector in Dubai, has announced that the Cruise Ship Emergency Response Task Force, convened in September, 2011, to address the challenges presented by the introduction of ever larger cruise ships to the UAE waters, hosted the first cruise sector mass casualty table top exercise and drill last week.

The Task Force, comprised of federal and local emergency responders, including the cruise industry, the Dubai Tourism, Commerce and Marketing Authority and coordinated by the DMCA, focused on how best to organize and respond to a multiple casualty event aboard a cruise ship in port or in near coastal waters, given that such a situation would require a significant amount of communication and coordination across public and private sector operations.
The table top exercise, taken from real-life occurrences, simulated multiple casualties aboard a cruise ship outside of Port Rashid in Dubai.

Costa Cruise Lines' FAVOLOSA volunteered to participate in the exercise. Captain Abdulla Al Hayyas of Dubai Maritime City Authority, acting as the Control Cell leader, was aboard the ship ensuring alignment of the ship's command and shore-side Command Center. The ship successfully evacuated over 800 crew members in less than thirty minutes.

"It is crucial that all of us are always prepared to respond decisively and promptly to any emergency situation," said Amer Ali, Executive Director of DMCA. "The regular table top exercises we organize are, therefore, part of our continuing efforts to improve our emergency procedures and to ensure a fluid working relationship between government and private entities during emergencies. The most recent exercise and drill demonstrated Dubai's preparedness to deal with such eventualities."

The exercise contained simulated events involving several jurisdictions and required active participation and communication from both public and private sector entities. Other organizations which took part in the drill were the National Crisis and Emergency Management Authority (NCEMA), Dubai Police and Dubai Rescue Police, Dubai Civil Defense, FAVOLOSA Senior Officers, Dubai Department of Tourism and Commerce Marketing (DTCM), Dubai Health Authority (DHA), Dubai Ambulance Dept, Dubai Ports Authority (DPA), Ports, Customs and Free Zone Corporation, Abu Dhabi Department of Transport, Dubai Ports World (DPW) and Abu Dhabi Port's Company (ADPC).