Global Maritime take Center Stage @ Danish Forum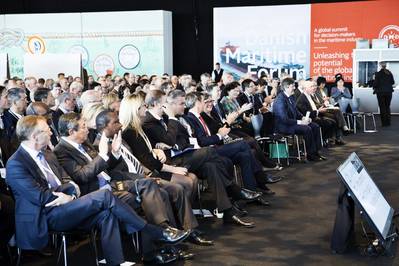 The second Annual Danish Maritime Forum, scheduled for October 7-8, 2015, in Copenhagen, brings together a wealth of global maritime leaders to address present and long-term challenges for industry.
Discussions at this year's Danish Maritime Forum are influenced by volatility in global markets and uncertainties about future growth and will focus on how the maritime industry can address these challenges in both the short and long term. Other topical issues will include the New Chinese Silk Road, the global energy outlook and the future of ocean governance.
More than 200 decision makers from all parts of the global maritime value chain have been invited and accepted to come and discuss major global trends. This includes the South Korean Minister of Oceans and Fisheries Yoo Ki-June, State Secretary of the Norwegian Ministry of Trade Dilek Ayhan, the Danish Minister for Business and Growth Troels Lund Poulsen and other ministers. President and Chief Executive Officer of Danaos Corporation Dr. John Coustas, Paddy Rodgers Chief Executive Officer of Euronav, Philippe Rochet Executive Vice President Jaccar Holdings and Mats Berglund Chief Executive Officer of
Pacific Basin Shipping will
be joined by other shipowners. Key participants from the technological side include Thomas S. Knudsen Chief Executive Officer of
MAN Diesel
& Turbo and Jaakko Eskola President of Wärtsilä Marine Solutions.
Jorge Quijano Chief Executive Officer of the Panama Canal Authority and Mohammed Sharaf Group Chief Executive Officer of DP World will be amongst the participants who represent the infrastructural part of the value chain. The voice of ship management will include Peter Cremers Chief Executive Officer of Anglo-Eastern Univan and Bob Bishop Executive Director of V.Ship.
Andy Dacy Chief Executive Officer, Global Maritime of J.P. Morgan and Peter Stokes Director of Lazard will be there with others from the financial industry and investors.