Dubai Maritime Club Launched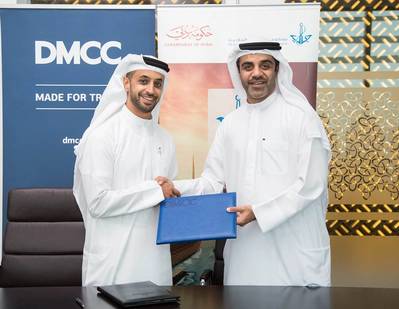 The Dubai Maritime City Authority (DMCA), the government authority charged with regulating, coordinating and supervising all aspects of Dubai's maritime sector, has committed its full support for the Dubai Maritime Club, a not-for-profit initiative aimed at nurturing a dynamic network of maritime professionals.
Launched in collaboration with DMCC (Dubai Multi Commodities Centre), the authority on trade, enterprise and commodities in Dubai, the Club will facilitate regular meetings for members irrespective of the location of their activity, with the main purpose of sharing knowledge and expertise and providing a platform for productive dialogue geared towards improving the industry.

Ahmed Bin Sulayem, Executive Chairman, DMCC, said: "Dubai has a strong heritage in the maritime sector and sea trade is a critical part of the city's history and future. With Dubai clearly positioned as a gateway for global trade, the next natural step for the maritime industry to transform our city into one of the best international maritime clusters by 2020 is on course, in line with the vision of H.H. Sheikh Mohammed Bin Rashid Al Maktoum, Vice President and Prime Minister of the UAE and Ruler of Dubai."

The Dubai Maritime Club will primarily focus on the core values of Innovation, Communication and Collaboration. The Club's sub-groups and targeted events will address specific topics and issues impacting the maritime industry – including technical, economic, and other maritime sector related aspects. A candidate must be directly involved in the maritime sector to qualify for Club membership.
DMCA and DMCC recently signed a Memorandum of Understanding to reinforce their collaboration on promoting Dubai as a global maritime hub and as a gateway to GCC and MENA business and investment.
Amer Ali
, Executive Director, Dubai Maritime City Authority, said: "The Dubai Maritime Club embodies the spirit of creativity, teamwork and excellence which
Dubai Maritime City Authority upholds
as it helps shape Dubai into one of the world's top maritime hubs. It provides a vital venue for discussing and debating the latest and most pressing industry concerns, formulating the best solutions, as well as consolidating the expertise and experiences of stakeholders. We commend DMCC for creating a promising entity that can help in DMCA's efforts to bring about a radical change in the local maritime sector through cooperation and transparency in line with the wise vision of H.H. Sheikh Mohammed bin Rashed Al Maktoum, UAE Vice President and Prime Minister and Ruler of Dubai. The Club can expect our full support and assistance as it pursues its set objectives."
Key members of the Dubai Maritime Club will be able to avail of exclusive benefits and access to special knowledge-sharing events. Information related to how to apply to membership in the club and other relevant details will be available soon.