Maritime Trends: 2020 & Beyond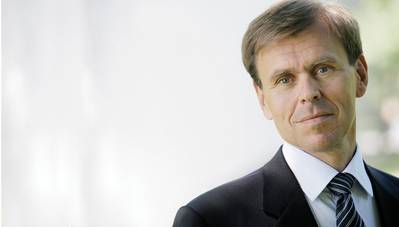 If hindsight is 20/20, then one might assume that predicting future market trends to the year 2020 is a severely myopic endeavor. As most in the maritime industry can attest, the clarity of future regulations is often only crystallized by the most recent disaster and resultant rules. But Norwegian classification society Det Norske Veritas (DNV), not one to shy from a challenge or bold prediction, has embarked on an intensive study dubbed "Shipping 2020" which it contends will help to deliver clarity to shipowners regarding future emission-reduction and energy-saving technologies for the world fleet.

While accurately predicting future events may evoke memory of Carnac the Magnificent, DNV embarked upon and earlier this summer presented findings from its study "Shipping 2020," a study undertaken as the class society increasingly found itself being asked (and in turn asking itself): "How can we predict the deployment of important emission-reduction and energy-saving technologies in the world fleet by 2020?"
Although accurate predictions on how commercial vessels will be outfitted, powered and fueled eight to 10 years down the road seems fuzzy at best, helping to bring clarity to the situation is the undeniable convergence of trends – trends in technology, its maturity and adaptation; trends in environmental regulations; and trends in world economy and fuel consumption.
"We have looked at the world economy and the demand for transport; we have looked at the environmental regulation; we have looked at technology trends; and we have looked at fuel choices, fuel alternatives and fuel prices," said Tor E. Svensen, President, DNV, when presenting Shipping 2020's findings in Athens on the occasion of Posidonia 2012. Svensen freely admits that the subject is far from conclusive, with a number of factors in the coming years ultimately shaping the reality.
"There are many, many variables in this. It's about the market, it's about the technology; the technology maturity, and the cost benefit. But there are also clear indications that technology, as it's adopted by more and more, becomes more cost effective."

Key Findings from DNV's Shipping 2020 Report

1. 30% of Newbuildings will be delivered with gas engines in 2020;
2. Demand for Marine Distillates will be around 200 to 250 million tons;
3. New ships in 2020 will emit 30% less CO2; with EEDI as the main driver;
4. LNG is the cost-effective fuel choice for ships sailing more than 30% of their time in ECAs;
5. Scrubbers will not be a significant option before 2020.

The Technology
Technology plays a central role in making the marine industry more efficient, cost-effective and in compliance with rapidly evolving environmental rules. While shipowners are widely hailed as "conservative" in their approach to new technology adoption, it is a clear trend that the future industry leaders will be those that identify and adopt the best technologies
"The challenge is of course making the wrong investment decision (in the wrong technology) will be detrimental both to the industry as a whole, and to individual company," said Svensen. "And wrong decisions will impact the finances of the company quite strongly."
LNG as fuel is one of the emerging technologies that most clearly has been identified and moved forward as a potential solution in many respects, financial and environmental topping the list. In predicting that 30% of the new buildings delivered by 2020 will be gas engines, DNV takes the assumption that energy costs overall will continue to rise, and that LNG prices will remain 30% lower than that of heavy fuel oil (HFO). In this scenario, DNV's report estimates 1,000 newbuildings delivered with gas engines (either LNG or dual fuel) over the coming nine years, a number equaling 10-15% of the expected newbuildings.
While there are a number of factors playing into this prediction, DNV sees the global sulfur limit assumed to be effective from 2020 as having the most significant impact on the implementation of gas engines, provided of course the capacity and fuel supply are there.
Scrubbers are another area of marine technology that were factored into the Shipping 2020 study, though DNV – based on the very low price of LNG as compared to HFO – sees a limited demand for scrubbers until 2020, estimating a modest 200 installations per year.
"We do not see scrubbers as a significant option between 2020; we believe that distillate fuels will win this game," said Svensen.
However, the picture changes in 2020 with the implementation of stricter sulfur content rules, but to reiterate, many of the findings in the study are closely tied to the predicted (yet often unpredictable) price of energy, and how they stack up comparatively. After 2020, when the new limits enter force and ships are tasked to run on low sulfur fuel or clean exhaust always, the potential for scrubber technology perks up greatly, with the possibility of installation on several thousands of ships.

Fuel to Burn
It goes without saying that the future of heavy fuel in the marine environment is fading fast, as the DNV Shipping 2020 study estimates that HFO consumption will plummet from about 290 million tons in 2019 to only 80 to 110 million tons in 2020.
Simultaneously, the availability of cleaner alternative fuels comes with some questions. A leading impediment to the adoption of LNG as fuel has been the dearth of bunkering stations to fulfill demand – a classic 'chicken or the egg first' scenario which requires substantial buy in to spark the construction of LNG fueling portals; while the scarcity of LNG-fuelled vessels has slowed investment in expanded fueling points. Exceptions to the rule are smaller vessels on regular routes – ferries, OSVs, and shuttle tankers, for example – where the bunkering scenario is much more concise and predictable.
New market regulations may help to expedite the market for LNG fuel, as the Shipping 2020 study contends that in the big ship market, LNG will become a cost-efficient option for ships that spend more than 30% of their time sailing in ECAs. Specifically, when the 0.1% sulfur limit in North America and Northern Europe comes into force in 2015, about 40% of the world fleet will be affected, with the larger, oceangoing ships being somewhat affected, while the smaller tankers and general cargo carriers that may spend all of their time in ECAs being hit the hardest.
The adoption of marine distillate fuel is another matter, as DNV – in the second major finding of the Shipping 2020 report – predicts that demand for marine distillates will be 200-250 million tons by 2020, versus today's demand of about 30 million tons per year. To put this in perspective, "200 to 250 million tons per year equals the entire distillate consumption of the United States in 2010," said Svensen. "This is a huge increase." The adoption of and restrictions associated with Emission Control Areas (ECAs) will help to effectively bump up the adoption of marine distillate fuels, but the Shipping 2020 reports finds that the big increase will be in 2020 with the introduction of new stringent global sulfur limits.

Methodology
By its own admission, DNV clearly states in its overview and repeatedly so at its presentation in Athens that the results of the study are subjective to a wide range of factors that independently and in unison could dramatically change the reality by 2020.
As an overview, the creation of Shipping 2020 was not done in a vacuum in the halls of Høvik, Norway, rather the creators considered real-world ships and operating circumstance. In all, six major factors, including: Megatrends and External Drivers; Future scenarios; the World Fleet; Technology Options; a stochastic simulation model developed by DNV using the ExtendSim software; and finally, a reality check, interpretation and analysis to arrive at its conclusions.
Agree or disagree the conclusions of Shipping 2020, but the efforts by DNV and other organizations that seek to studiously examine and help shape the major maritime issues of the day should be encouraged and lauded, as it is impossible to get a clear view if you're not even looking.
(As published in the 3Q edition of Maritime Professional - www.marinelink.com)