Mina Masaffah Port Record Broken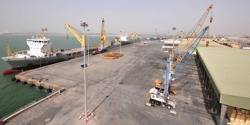 The Port of Mina Musaffah in Abu Dhabi records the berthing, unloading of its largest ship so far
The MV Svenja, with a draft of 8.66 metres owned by the SAL shipping line, arrived at the port heavily laden with a load weighing just over 12,000 tonnes. One heavy-lift piece of cargo wieghed in at 570 tonnes.
Before this, the record for the largest ship to berth at the Port in terms of LOA (length overall) had lain with the MV Arzanah, which discharged over 7,000 tons of bagged urea fertilizer from Ruwais.
One of the highlights of heavy lifts in the Port over the last year occurred in August 2011 when two 500 tonne shore cranes used a tandem lift to lower heavy cargo onto a heavy trailer. The tandem operation had never been performed in Mina Musaffah before.