Ship Splits in Two Causes Massive Oil Slick in Taiwan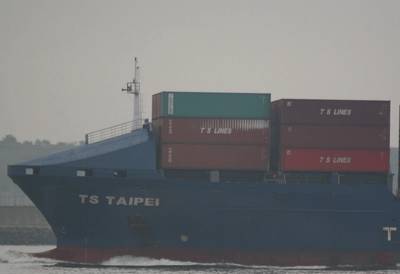 Authorities in Taiwan are trying to contain an oil spill from a grounded container ship which has split in two off the shore of New Taipei City.
The 15,487-ton T.S. Taipei, owned by TS Lines, ran aground in a storm about 300 metres from the shore while it was sailing from Hong Kong to Keelung Port in Taiwan on March 10.
"The engines of the ship stopped running on March 10. Cracks began appearing on the ship on Thursday, before it split in two," say
local media
.
The ship split at about 5pm on Thursday, causing three shipping containers to fall off the deck, Coast Guard Administration captain Shen Wen-pin said. On Friday the ship broke apart, releasing
heavy oil into
the sea.
According to reports more than 100 workers are in the cleanup and containment effort of the
oil slick from
the vessel.
Some reports say that authorities have not been able to work on the stranded ship since March 23 because of rough seas and do not expect to be able to resume operations until next Monday.
The Maritime and Port Bureau said the ship was carrying 617 containers, among which were stored dangerous materials, such as 20 tonnes of potassium perchlorate, 18.2 tonnes of toluene, 19.5 tonnes of assorted fats, 8.5 tonnes of corrosive cleaning solutions and 6 tonnes of flammable lubricants, as well as low-to-medium-danger materials, such as 4.5 tonnes of air bags, 2.6 tonnes of car seat safety belts, 18.1 tonnes of epoxy and 11 tonnes of paint.
"Even if the oil stains can be removed swiftly, massive deaths of fish and other marine animals in the area are expected due to lack of oxygen in the water," said Michael Lee, secretary-general of the non-profit Society of Wilderness (SOW).
"It could take at least three years for the local ecological system to recover to some extent," he added.
Taiwain's Premier Chang San-cheng has defended the government against attacks over a percieved slow response to the wreck.